Patterson Collection
The photographs within this collection have been very kindly supplied by Bruce Patterson and were taken by Bruce's father, Duncan M. Patterson. ABS Duncan Patterson joined HMS Ausonia at Trincomalee on the 31st May 1946 and was part of the ships company who sailed the ship back to the UK, arriving in Plymouth on the 1st July 1946. The photographs form just a small part of Duncan's wartime memoirs who first served at the Naval Air Station, HMS Gannet (Class 105) in 1943, then the aircraft carrier, HMS Colossus and finally on the Ausonia.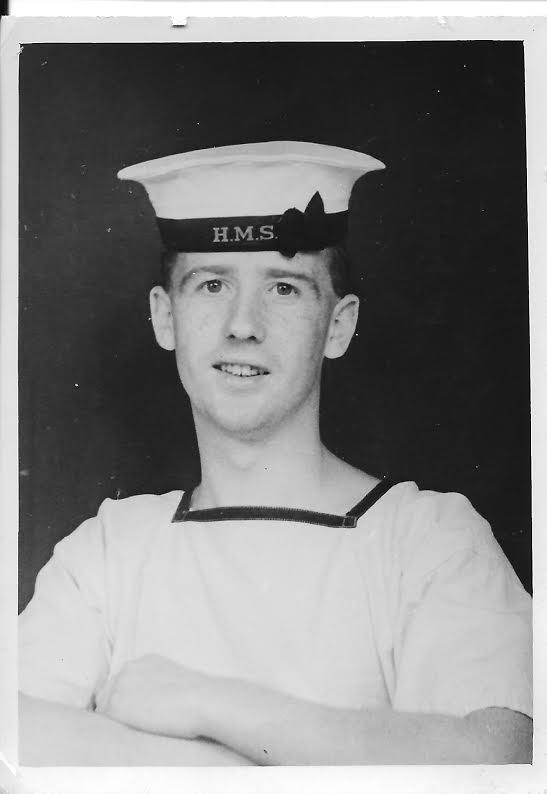 ABS Duncan Patterson. This photograph was taken in Colombo, Ceylon, sometime in October 1945.
(Copyright Bruce Patterson)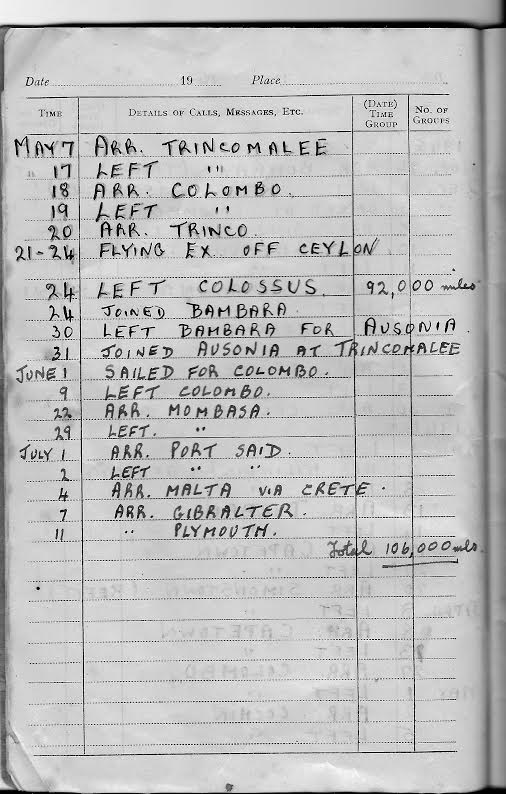 A page from Duncan Patterson's naval logbook, which records his time on HMS Ausonia in 1946.
(Copyright Bruce Patterson)
Amongst Duncan's souvenirs is the script for the 09.00 ceremony of crossing the line on the 18th and 19th June 1946, on board HMS Ausonia. The text of the script is very feint and has a few over types and cross outs, and as it was printed on "Banda" copier ink/paper seventy years ago, is now very fragile.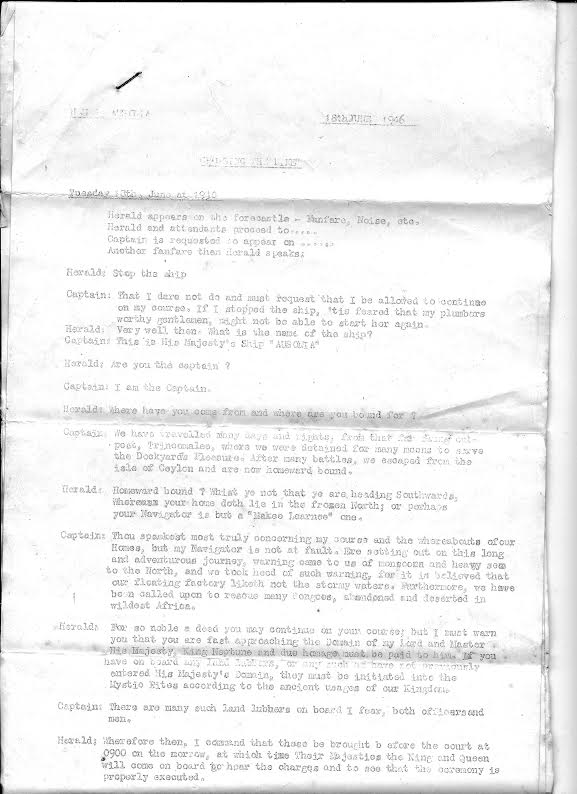 The front page of the original script for crossing the line on the 18th June 1946.
(Copyright Bruce Patterson)
As the script identifies a number of participants by name and rank, Bruce has taken a lot of time and trouble to make a transcript of it and is confident that what follows is an accurate interpretation of the original:
HMS Ausonia                                                                                                                                                         18th JUNE 1946
"CROSSING THE LINE"
Tuesday 18th June at 1930
Herald appears on the forecastle – Fanfare, Noise, etc.
Herald and attendants proceed to…..
Captain is requested to appear on …..
Another fanfare then Herald speaks.
Herald:  Stop the ship
Captain:  That I dare not do and must request that I be allowed to continue on my course.
If I stopped the ship, tis feared that my plumbers worthy gentlemen, might not be
able to start her again.
Herald:  Very well then.  What is the name of the ship?
Captain:  This is His Majesty's Ship "AUSONIA"
Herald:  Are you the captain ?
Captain:  I am the Captain.
Herald:  Where have you come from and where are you bound for ?
Captain:  We have travelled many days and nights, from that far flung outpost, Trincomalee,
where we were detained for many moons to serve the Dockyards Pleasure.  After
many battles , we escaped from the isle of Ceylon and are now homeward bound.
Herald:  Homeward bound ?   Whist ye not that that ye are heading Southwards, whereas
your home doth lie in the frozen North; or perhaps your Navigator is but a
"Makee Learnee" one.
Captain: Thou speakest most truly concerning my course and the whereabouts of our homes,
but my Navigator is not at fault.  Ere setting out on this long and adventurous journey,
warning came to us of monsoon and heavy seas to the North, and we took heed of
such warning, for it is believed that our floating factory liketh not the stormy waters.
Furthermore, we have been called upon to rescue many Pongoes abandoned in
wildest Africa.
Herald:  For so noble a deed you may continue on your course: but I must warn you that you are
fast approaching the Domain of my Lord and Master His Majesty, King Neptune and due
homage must be paid to him.  If you have on board any land lubbers, or any such as have
not previously entered His Majesty's Domain, they must be initiated into the Mystic Rites
according to the ancient usages of our Kingdom.
Captain: There are many such land lubbers on board I fear, both officers and men.
Herald:  Wherefore then, I command that these be brought before the court at 0900 on the
morrow, at which time Their Majesties the King and Queen will come on board to hear
the charges and to see that the ceremony is properly executed.
Captain:  Good-night.
(blackout,  Fanfare, noise, etc)
Wednesday 19th June at 0900
FANFARE FOR THE KING, QUEEN AND COURT AT THE REAR ON FORECASTLE
Herald:  Make way for His Majesty King Neptune
Captain:  Heil, good King and greetings to your lovely Amphitrite.  We of Ausonia do pray with due
humility for a right of way to pass through your Domain.  We are honoured at being
favoured with your Majesty's presence on board this ship.  Would your Majesty care to
walk round her vast and spacious upper decks before returning once to your watery
realm.
Neptune:  Many thanks most loyal and beloved of my shellbacks.  I will avail myself of your kind
Offer.
Captain:  This way……(procession and introduction to officers…..presentation)
Herald:  Silence, the King approaches.
Neptune: (to Captain):- For your good services I present you with the most noble Order of
the Rabbit,  And now to business,  Let the battle commence,
Clerk of the Court:-  Hear ye, Hear ye, Hear ye, Whereasye have already received warning at
your peril to attend the court of His Most Exalted Nautical Majesty King Neptune, Lord
of All the Oceans, I now declare this court open and demand due respect and decorum
be paid to all land lubbers, dry idlers, longshoreman and loafers.  Let all who are
summoned report to this court promptly or the worst will befall them.
I call on Commander Clark, Royal Naval Reserve.
We have before us Your Majesty, one of the distinguished members of the His Majesty's
Royal Naval Reserve, who has already previously visited your Domain, yet did he commit
a most grievous crime in that he did disturb the peaceful slumbers of many honourable
men, even at the early hour of 0530 causing them much inconvenience, making them
scrub decks, queue in great masses outside bathrooms for long hours and without
breakfast.  I command the court to execute their duties.
1st Lieut
Your Majesty, this most exalted officer did think fit to hold up the ship for self-indulgence
of the mystic rites of fishing, using for bait, the much needed Herring ration and so denying
the ships company the little bite they eat.  Gentlemen proceed.
Surg. Lt. Bassett
Did inflict grave indignity and discomfort on many of your Majesty's subjects by
pandering to his artistic temperament, in that he did paint their venerable bodies in a vivid
shade of green.  I adjudge that he be turned over to Our doctor for just punishment.
CDR. (E) Bullen
Your Majesty, we have here a royal Naval Officer, who, with great gusto and
vast amusement , did cause the greatest of inconvenience to the whole of the Ship's Company
in that he did so little water whilst at sea.  I decree that here and now he should be given to
our most faithful Barber and Bears.
Commander (S)
Was guilty of a most awful crime and aggravated offence in producing dehydrated
spuds, they being unfit for human consumption and was negligent for failing to supply on
Saturday, June 15th, at 1200 the allotted amount of Corned Dog and Pussers Peas to the
Ship's Company.
LIEUT. (S) Manning
Did lose his razor thereby allowing fungus to grow upon his face, constituting
Sacrilege and a slight upon Your Majesty, a terrible crime for which he must suffer.
LIEUT. Drake
Whilst holding the exalted position of CALO, which being translated meaneth,
Command Amenities Liaison Officer, at Trincomalee did provide His Majesty's Ship "Ausonia"
with the most ancient and corniest of films fit for furnace only.  Take him away.
LIEUT. Peters
Here before Your Majesty is a most grave offender.  In spite of much advertised
orders of water rationing he is strongly suspected of having a private dhobey firm, an awful,
'orrible, outrageous crime, with which only your most noble Court can deal.
Sub Lieut. Rich
Your Majesty, we now have before us, one, Sub-Lieutenant Special Branch,
Admiralty, Bath. Rich. Who, being in full control of his emotions and actions, put the most
noble and loyal Shipwrights through utmost pain and anguish in the form of strenuous
physical exercises every evening at the hour of 16:45.  We being loyal and honourable
citizens , do leave judgement and administration of the just law of the court of His Most
Imperial Majesty, King Neptune.
Mr. Bates. Bosun
Was guilty of an act to the prejudice of good order and Ausonian discipline
In that he did endeavour to make our Floating Factory a Whale Factory as per Whale Island.
Let him now suffer.
Sub-Lt. Mills
Your Majesty, 'tis a sorry sight we have before us now.  Ever since he joined the ship he
has acted in a bird-like manner, namely a Gannet, by eating such quantities of rationed food,
thereby causing his slim, sylph-like shape to change to prodigious, porpoise-like proportions, to
his messmates consternation and his own constipation.  Such a despicable character must be
given to our most honourable members of the Court to work upon his craven body.  To the bears.
Sub. Lt. Gould
Did cause the Ship's Company much loss of merriment by imposing his much loftier
presence into the place of one short of stature our beloved Sub. Lt Dwane.  This Sub. Lt Gould
having made so bold as to enter your Majesty's Domain, must now be dealt with according to
custom.
Mr. Hannan. W.O.O.
That he being the king of all "rabbit" makers be invested with the ancient
Order of Rabbiter and be henceforth known as Warrant Rabbiter, R.N.
P.O. WRITER METHERELL
(1)  Did drink his messmates beer in Trincomalee Canteen.
Recommended for two initiations.
(2)  Has spent 23 years in His Majesty's service without being initiated into the Royal Domain
Of Neptune.
R.P.O. SAUNDERS.
Did eat too much nutty, thereby causing a shortage of amongst Loyal Subjects of the Royal
Domain of Neptune.
OFFICERS COOK 1ST CLASS. FREDERICK WHITE.
Is charged with wilful neglect, whereby he did Fil to remove solid matter from waste water,
resulting in continual choking of Galley Sink.
JOINER WILLIAM CALDWELL.
Did fail to evolve the risk of being placed in Commanders Report for making Rabbits during
working hours, in that he did fail to fulfil his promise to make one Suit Hanger using pussers
material and in pussers time.
CAPTAIN'S SECRETARY.
This man has committed a most serious offence in as much that he did tamper with Lady
Aphridoite and try to seduce her.
P.O. COULTARD.
Did create a disturbance in Trinco canteen in as much that he did throw sandwiches at other
tables, thereby endangering the lives of his mess mates.
CANTEEN MANAGER.
Did desert Asonia in Trinco in order to pursue the fairer sex, returning onboard after he had
achieved his object – and only just in time.
P.O. TEL. MARR.
Did make false accusations against a member of King Neptune's Court thereby causing much
panic and confusion.
A.B. (Q.M.) WELDON:-
Did play "Barrow Boy" on his Bosun's Pipe after "Pipe Down" =
'O' A.B. Weldon the time is ripe
For you to stow away our pipe,
And learn a lesson once and for all
You know what we mean the Bosun's Call
The BEARS will grab you
And we hope that this'll
Take the tune out of your BLASTED whistle !
L/SEA. McTAGUE
Commonly known as the "WRECKER" has repeatedly hit the jetty endangering the lives of
liberty men.
P.O. STWD. CURTIS
Did enter your Majesty's domain as a non-swimmer after 7 years 9 months service in the R.N.
UNABLE SEAMAN WESTWATER.
Did disrupt the whole Ship's company by wrongly issuing Daily Orders to the effect that long
blue trousers were to be worn after 1800.  Thereby causing everyone great panic and alarm,
O.A. 4. DOUGLAS MILNER.
Is charged by the whole of 21 Mess, by constantly parting the fluff around his mouth making
noises contrary to the good order and conduct of the mess.
O.A. 1. FREDDERICK.
Is accused of purchasing the entire stock of Brylcream carried by the Ship's Canteen.
YEO OF SIGS. GRACIE
Did negligently carry out his duty by lowering the W/T ariels instead of the Dressing Lines,
thereby causing much merriment on the lower deck and consternation on the
Quarterdeck.
Was insolent when taken to task re this, replying " I want make amends not
recommends CHUM !"
P.T.I. CATCHPOLE.
Did carry out a series of Neck rolls into the goal at Hockey instead of placing the ball therein.
E.R.A. 4 DAVID MAKIN
Is charged with being such a poor sport.
SHPT 4. ANDREW KEVENER
Did fail whilst conversing on the Forecastle, the subject being football, to make his voice
heard on the quarter deck so as ALL (R) ALL the Ship's Company could hear, instead of just 99%.
SHIP MECH 4 WILLIAM LORIMER.
Is charged with disturbing the whole of 33 Mess at 0530.
Shpt 4. JAMES MULLEN.
Is charged with never having won an argument he has started.
SHIP MECH. 4 GEORGE THORNTON.
Is charged with constant dripping.
SHIPT. 4. CHARLES ABBATT
Is being charged for being a gannet, and not giving the other gannets in his mess a chance.
S.B.A. CECIL LUCAS
Is charged with sticking his hypodermic needle in too far when administering injections.
LASTLY IF THERE BE ANY OTHER SUCH CREATURES WHO HAVE NOT PREVIOUSLY BEEN INITIATED,
LET THEM BE BROUGHT BEFORE COURT HERE AND NOW.
———oOo———
It is not entirely clear why Duncan would have kept the crossing the line ceremony script as he was not a participant himself, having already done this in HMS Colossus in 1945, but it is assumed that as a member of HMS Ausonia's Telegraph/RT Department, he may have been one of the typists responsible for producing the script.
In addition to the script, the following 2" x 2" photographs record the ceremony.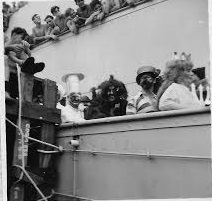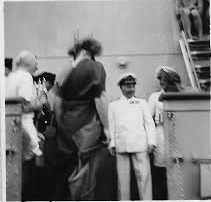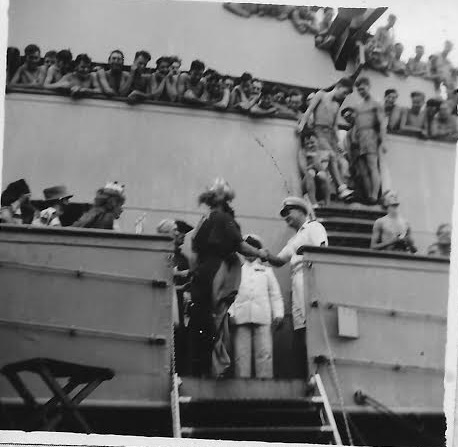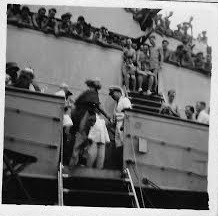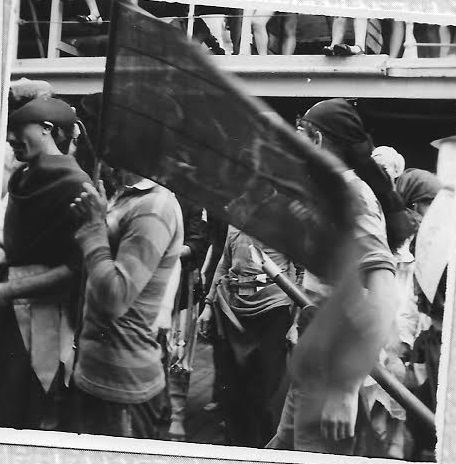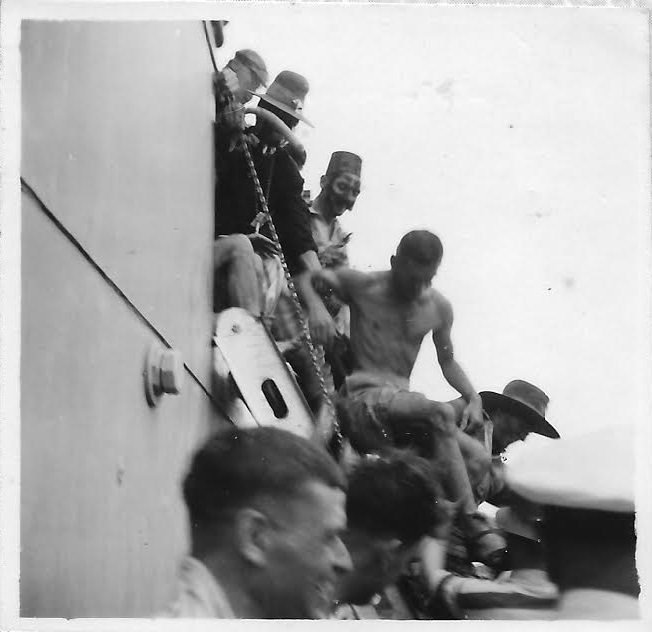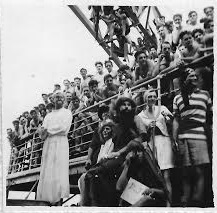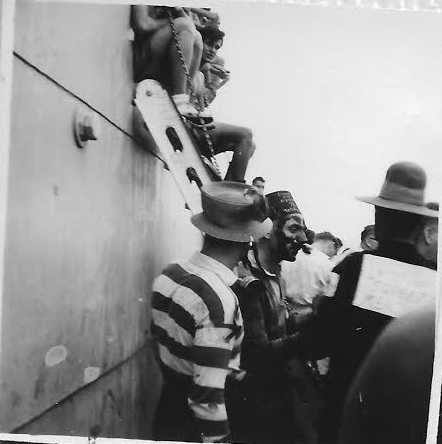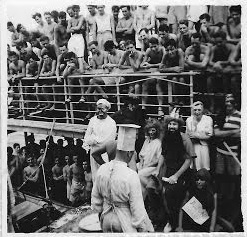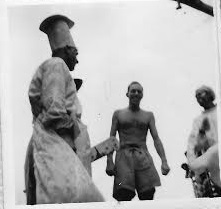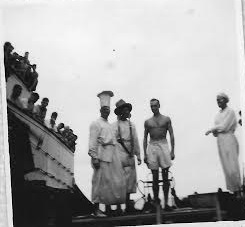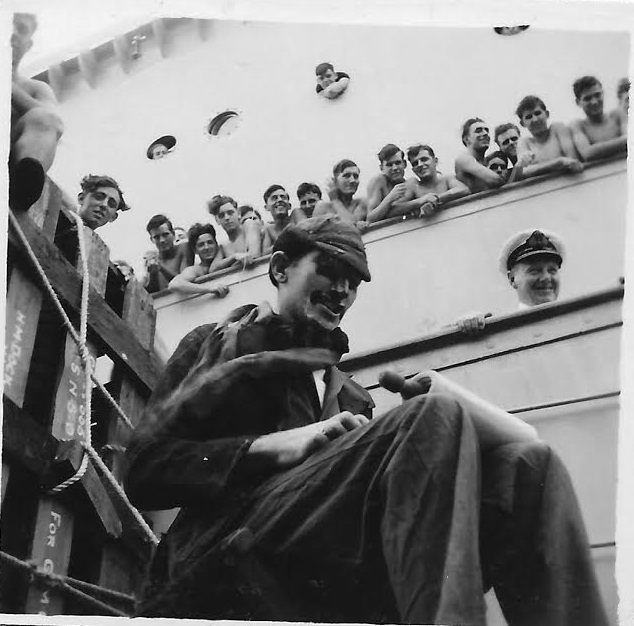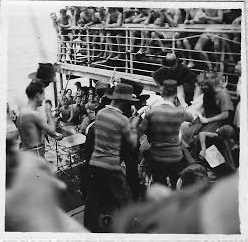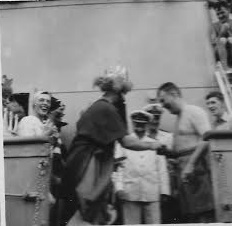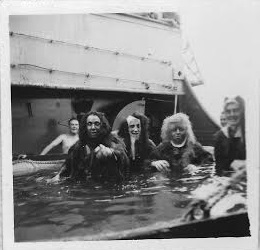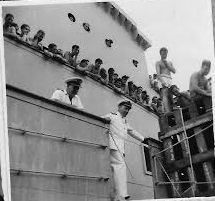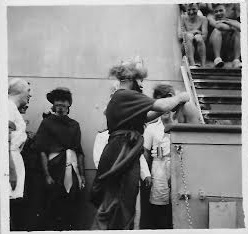 (Copyright Bruce Patterson)