RMS Alaunia II (1925-57)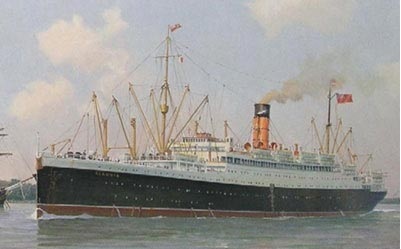 The RMS Alaunia was the second Cunard vessel to bear the name.
 After the success of the Andania, Antonia and Ausonia, and as part of their post-war building programme, Cunard launched a second trio of intermediate liners in the 1920's, named, Aurania, Alaunia and Ascania. Similar in appearance to the earlier vessels of 1922, with a straight stem, two masts, single funnel and counter stern, they were of 14,000 tonnes, oil fired and driven by double reduction geared turbines. The Aurania was built for the New York service, while the Alaunia and Ascania were designed for the Canadian trade.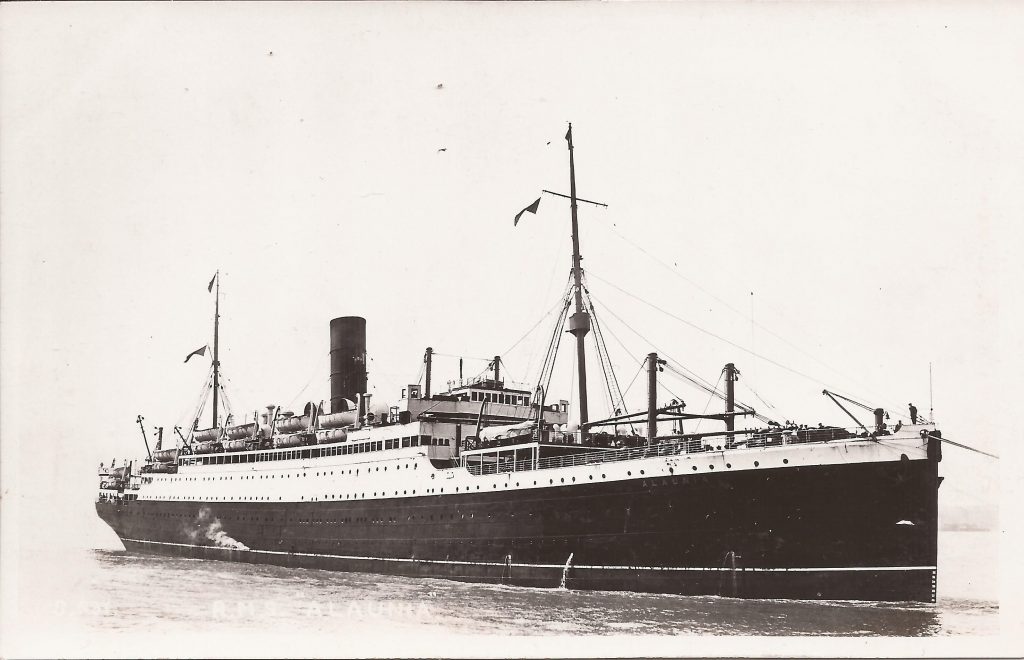 RMS Alaunia in 1922.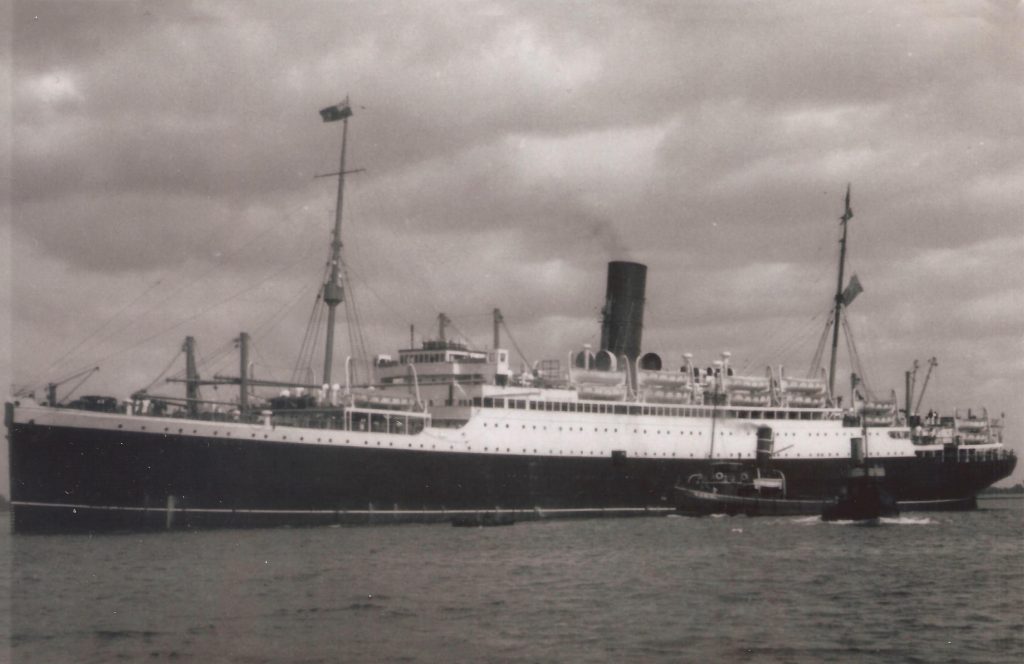 RMS Alaunia at Liverpool in 1925.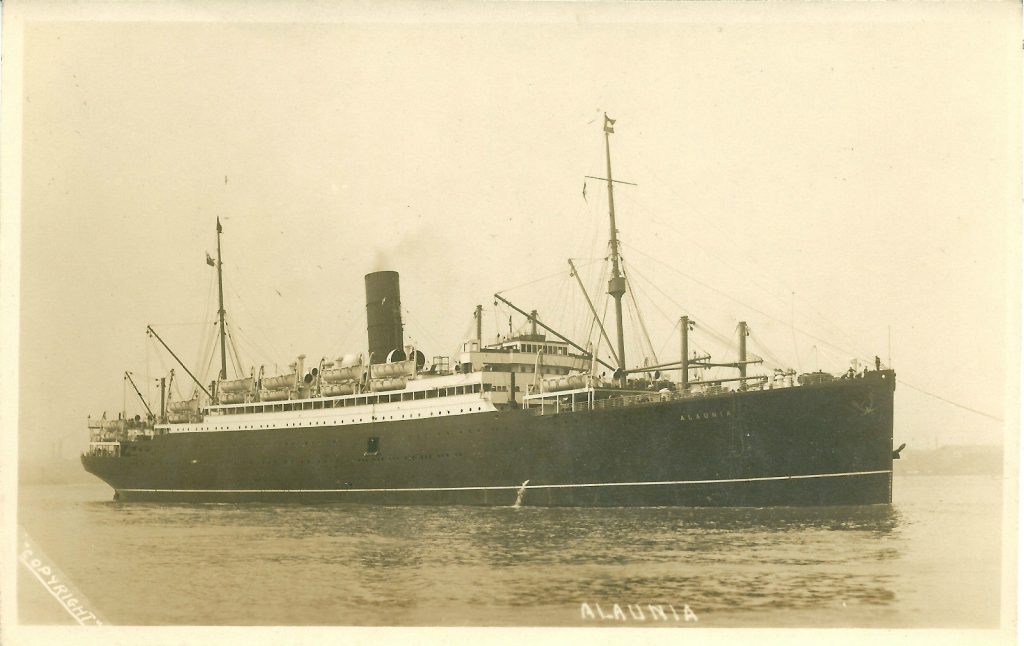 RMS Alaunia in 1925.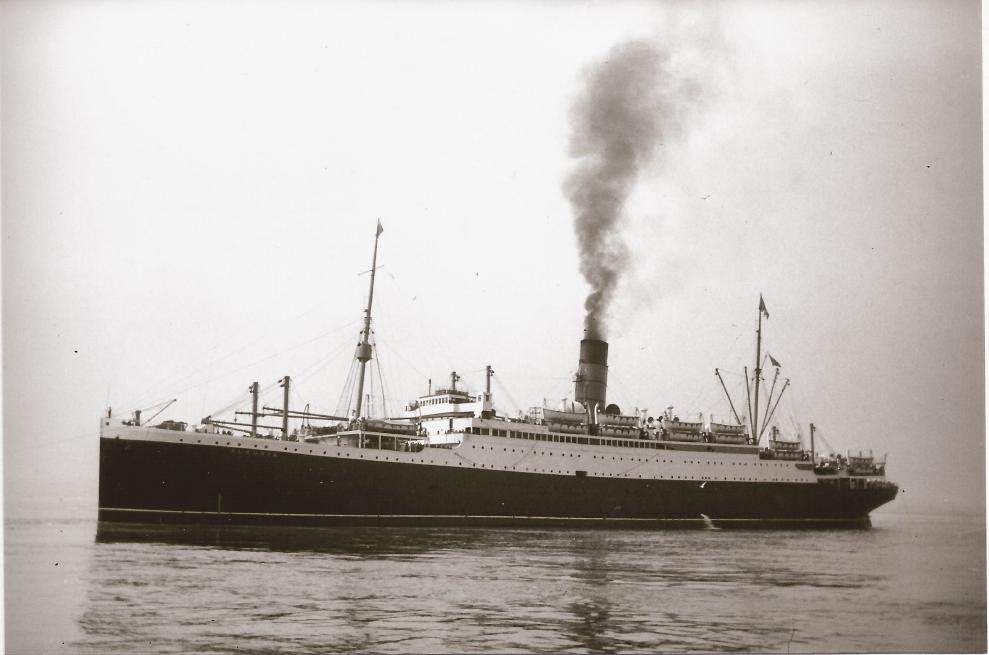 RMS Alaunia in 1925.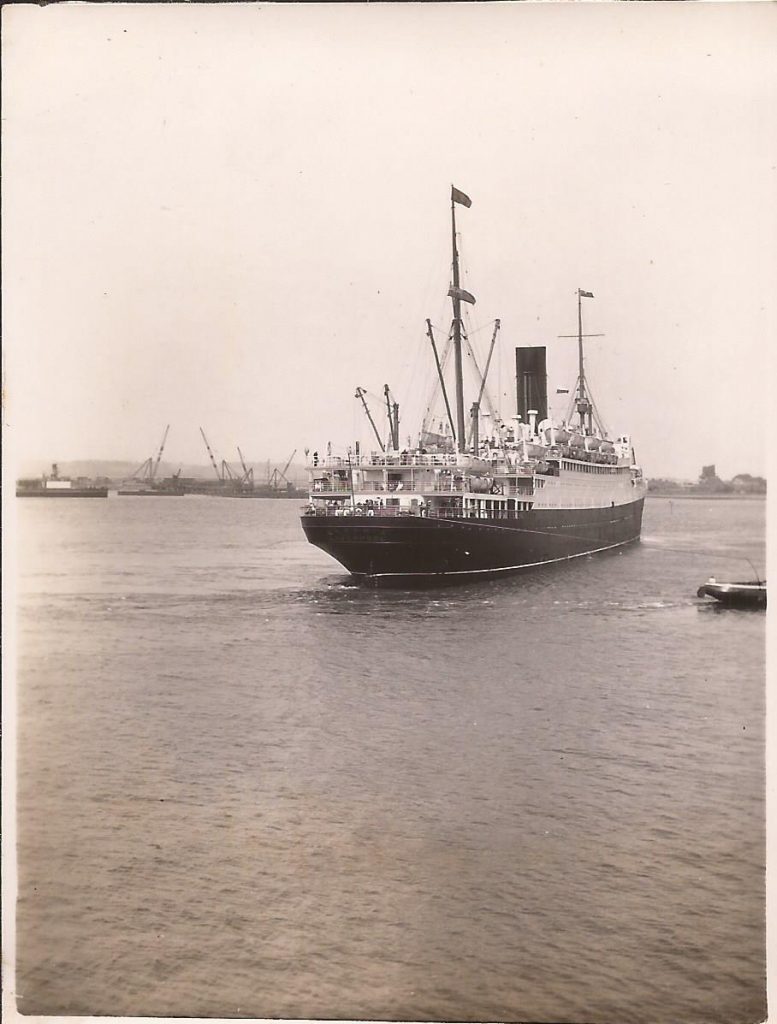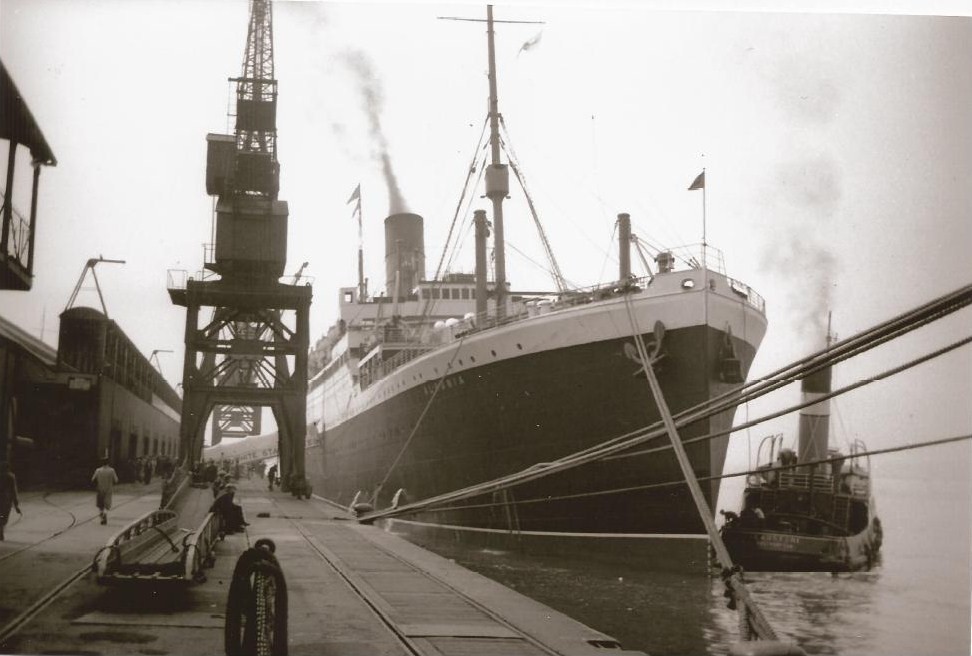 RMS Alaunia at Southampton Docks in 1926.
The Alaunia was built on the Clyde by John Brown & Company and she was the last of the 'A' Class of 1925 batch to be launched, taking to the water on the 7th February 1925. Just over five months later, on the 24th July, she made her maiden voyage, from Liverpool to Quebec and was not long before she joined her two sister ships on the Canadian service. Originally using Liverpool as her terminal port, in May 1926 this was changed to Southampton. The passenger accommodation underwent restructuring in 1927, to cater for three classes – cabin, tourist and third.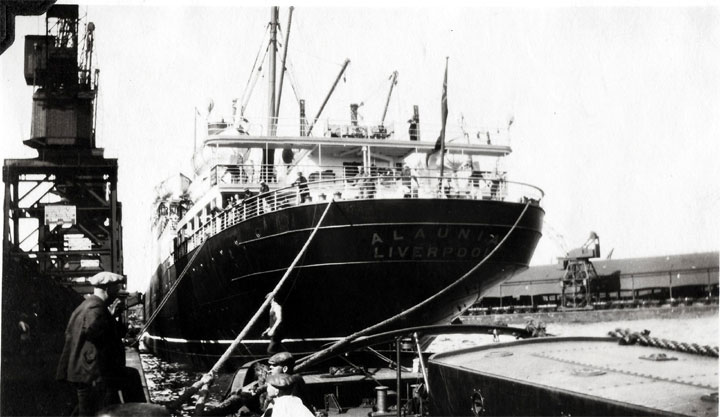 RMS Alaunia at Southampton Docks in 1932.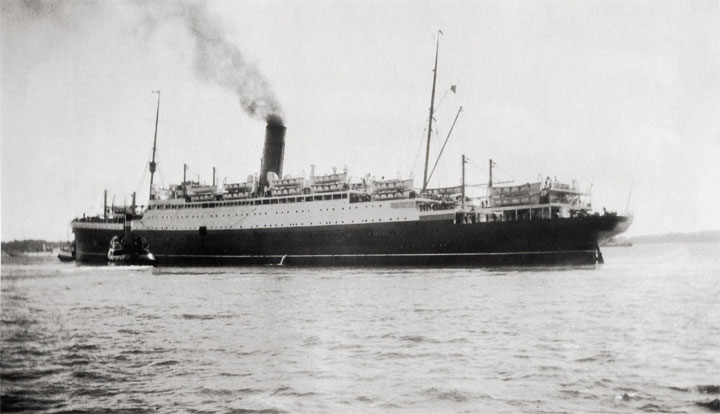 RMS Alaunia in the St. Lawrence River in 1932.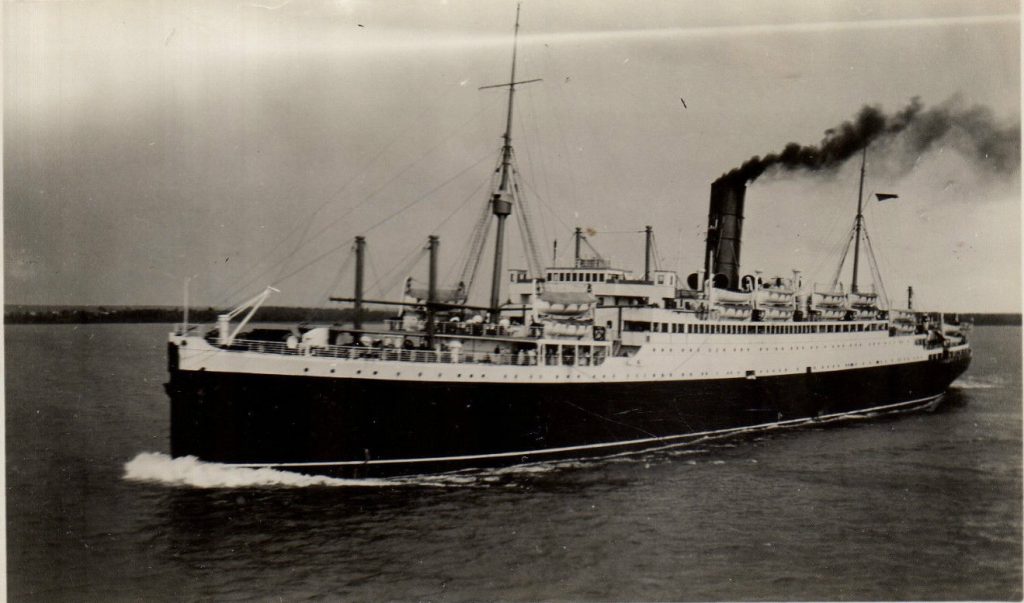 Photograph of the RMS Alaunia taken sometime in the 1930's.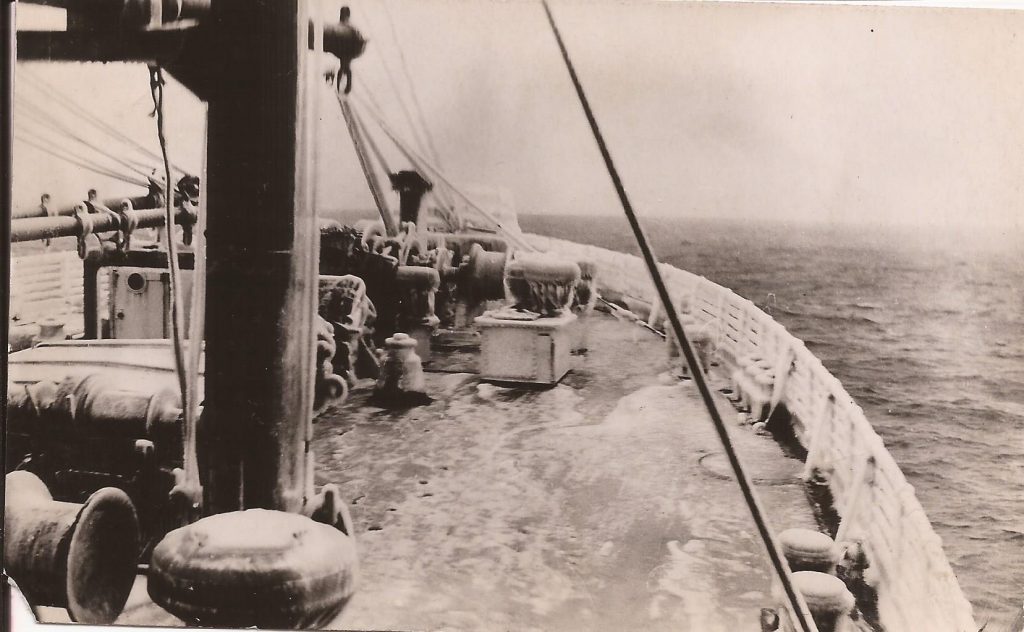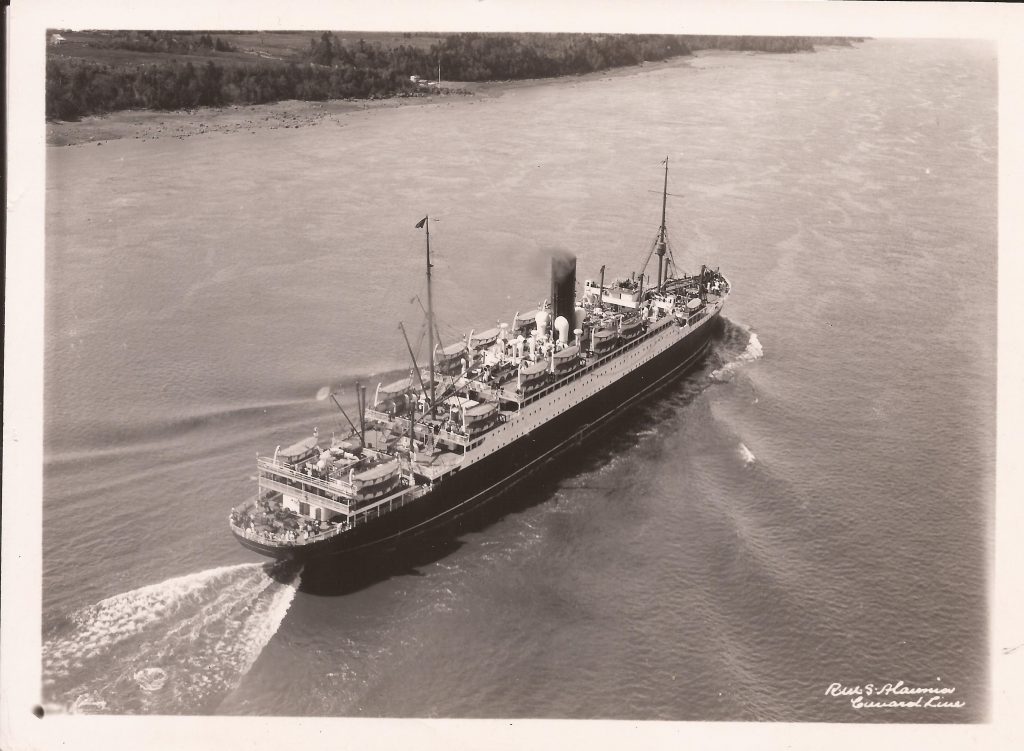 RMS Alaunia in the St. Lawrence River.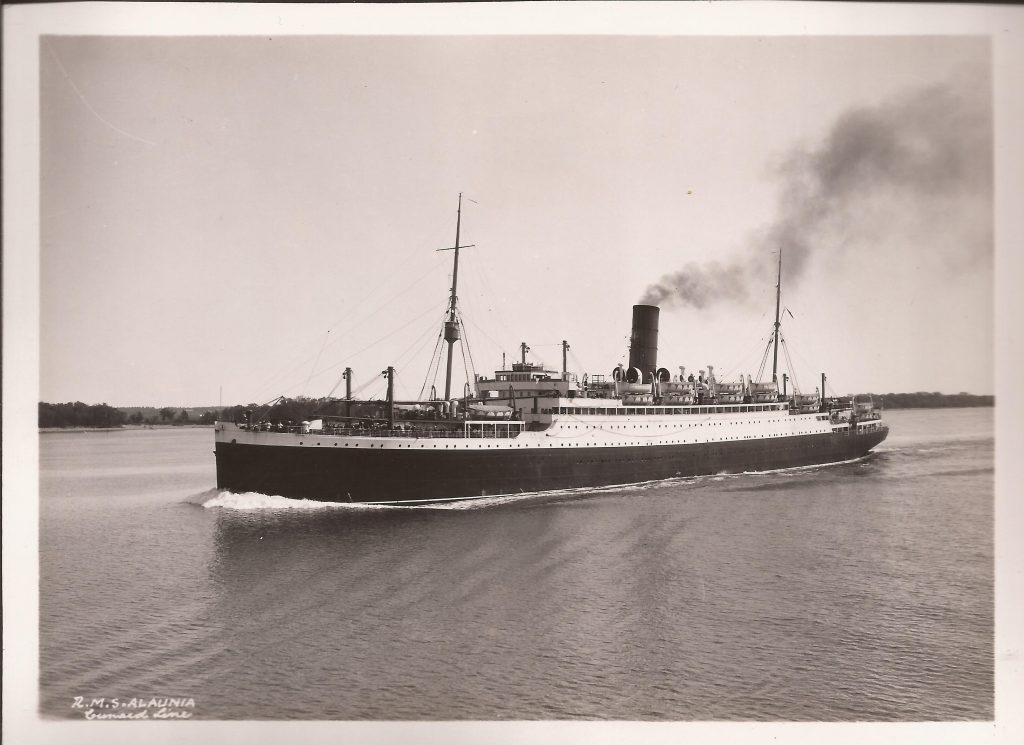 RMS Alaunia in the St. Lawrence River.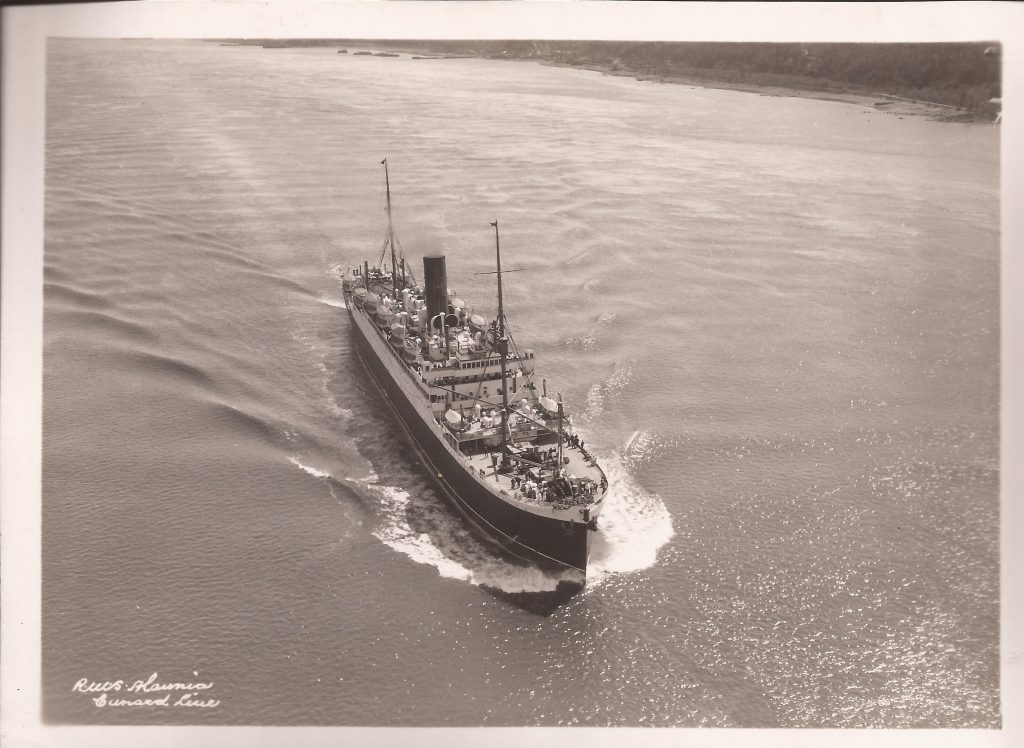 RMS Alaunia in the St. Lawrence River.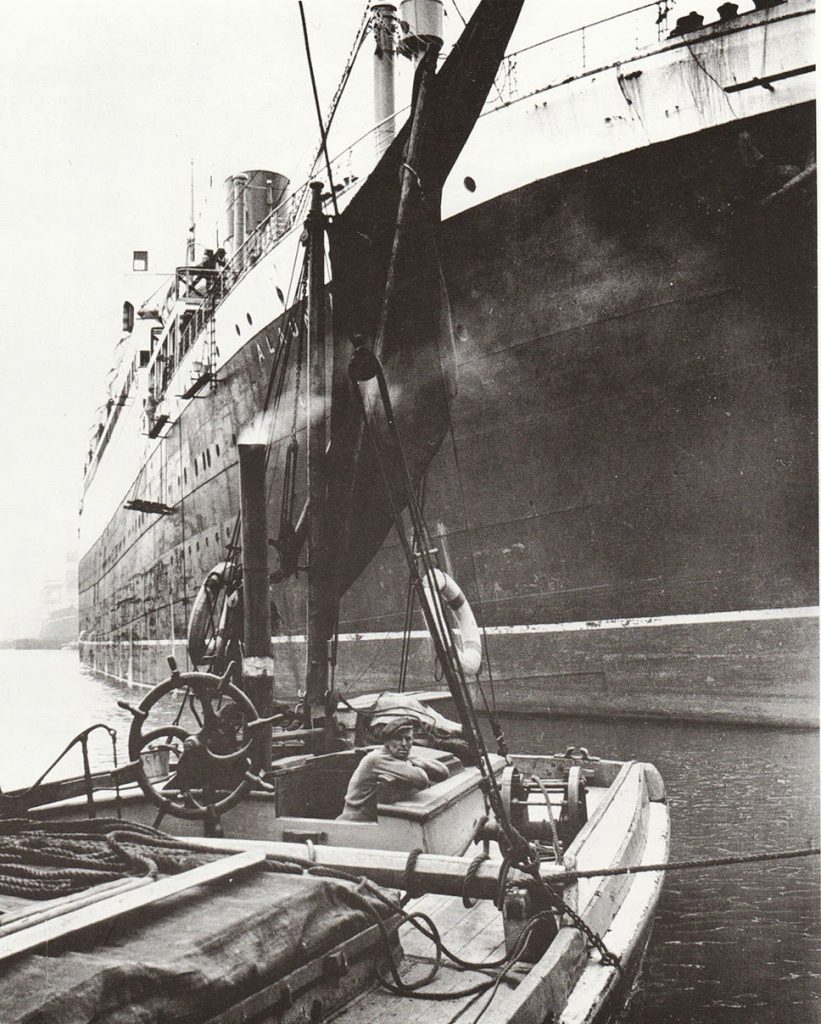 RMS Alaunia in Greenland Dock.
RMS Alaunia in Southampton Dock, photograph taken from the deck of RMS Aquitania.
The Ontario Jewish Archive contains records which illustrate the vibrancy of the community from its earliest days to the present day. The archive includes over 5,000 cubic feet of textual records, 100,000 historic photographs documenting Jewish life across Ontario, over 400 oral histories and more than 300 films dating from the 1920s. There are also over 1,500 blueprints and architectural drawings created by Ontario's most notable Jewish architects, along with hundreds of artefacts.
Amongst this collection are a series of photographs taken of Sammy Luftspring and Norman "Baby" Yack aboard the S.S. Alaunia while on route to Barcelona in 1936.
Baby Yack was a very good amateur, winning over 90 of 100 fights. Along with fellow Jewish boxer and Olympic teammate Sammy Luftspring, he declined to participate in the Canadian Olympic Trials for the 1936 Berlin Olympics because of Nazi persecution of the Jews and other minorities in Germany. He was a member of the Canadian Team that went to the Barcelona "alternate" Olympics, and was stranded for a time in Spain when the Spanish Civil War broke out, which led to a cancellation of the games.
Yack turned pro sometime in late 1936, and reportedly had 14 bouts through end of 1937. Between September 1937 and September 1939 Yack was rated as high as the number 4th ranked bantamweight in the world.
Sammy Luftspring was of Hebrew heritage. He was in line for a title fight with Henry Armstrong for the welterweight world title when he suffered an inoperable eye injury in a fight with Steve Belloise that ended his career. He was ranked as high as the number 3 welterweight in the world in 1939. Luftspring later became a boxing referee, primarily appearing on boxing programs in Toronto. He is a member of the Canadian Sports Hall of Fame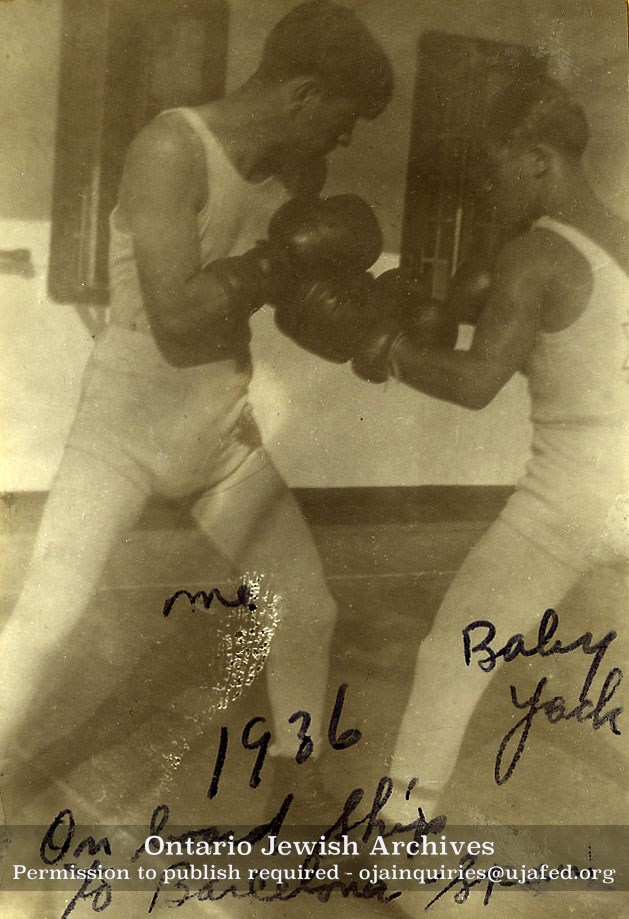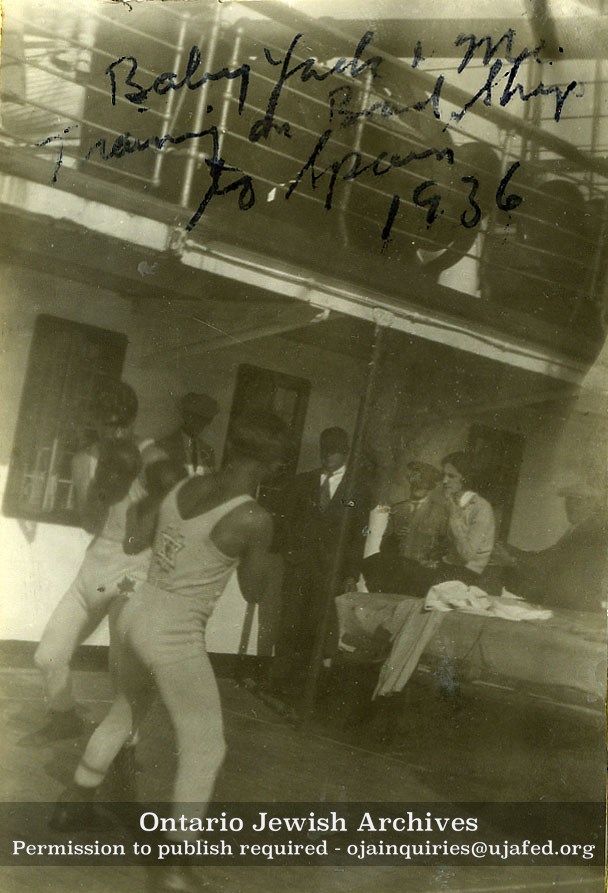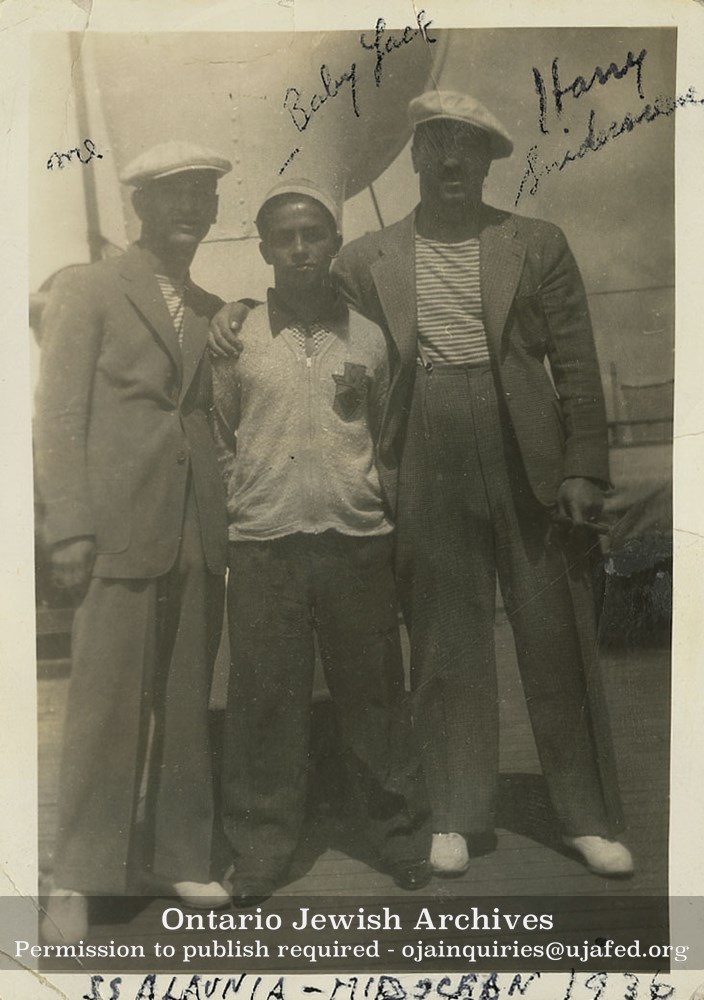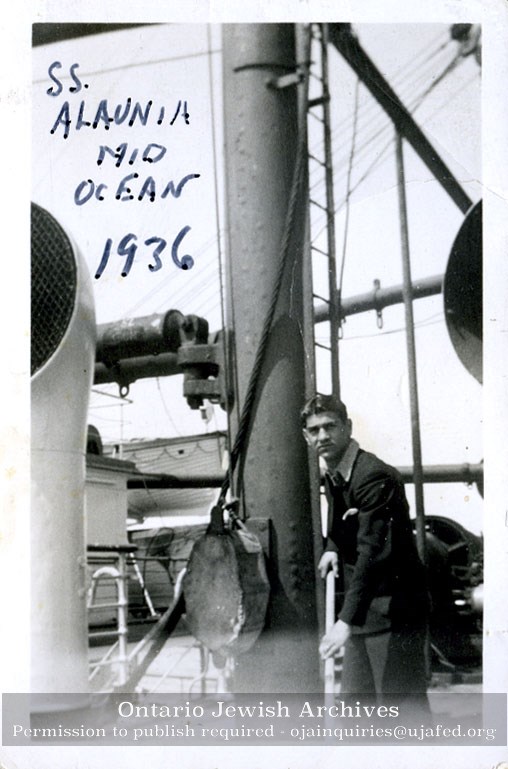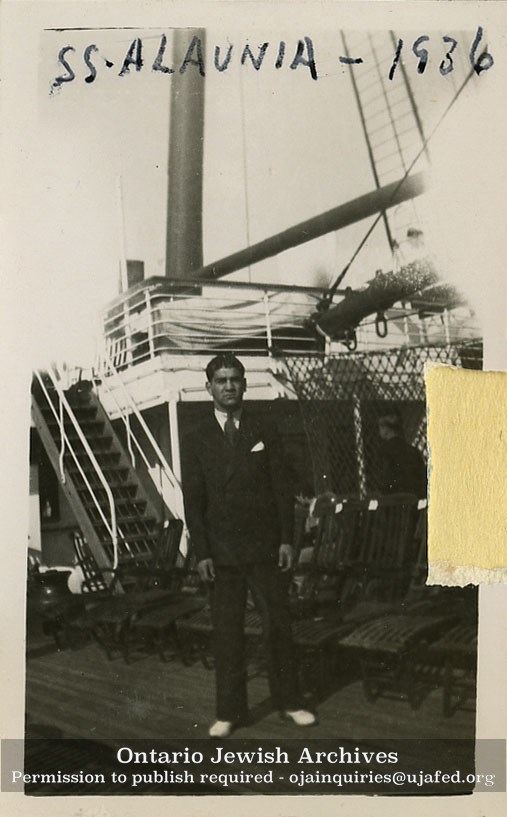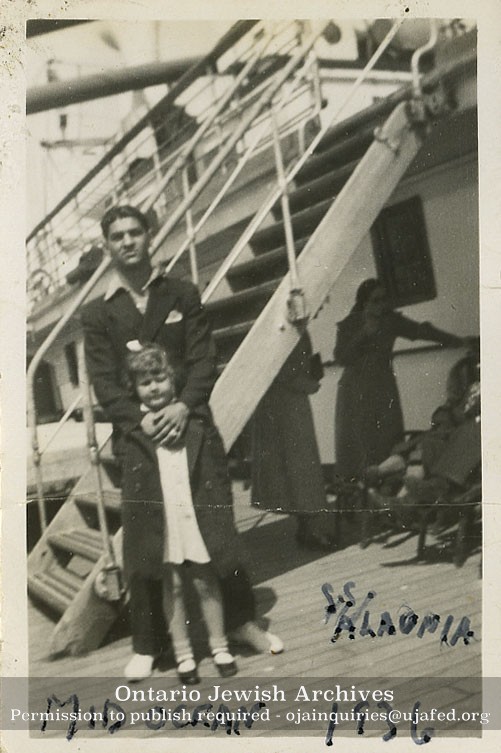 In February 1936 the ship was homeward bound from Canada when she received a distress signal from a French schooner 100 miles west of the Scilly Isles. Not only did she rescue the schooner's crew but it also assisted in the rescue of a lifeboat from the Bellucia, another ship which had gone to the rescue. Apart from this incident the ship continued the Canadian service uninterrupted until the outbreak of World War II.
The Alaunia arrived back in London, from Montreal, on the 20th September 1939 and did not sail again for Cunard. That month she was requisitioned and sailed to Gibraltar to be converted in to an Armed Merchant Cruiser. Like her two sister ships, was armed with 5 ancient, 6 inch guns and 2 single 3 inch, high angle guns. She was commissioned on the 27th September 1939 and after trials off Gibraltar she returned to Southampton Docks where the conversion work was completed. The dockyard painted her battleship grey and all the surplus furniture was landed. On the 9th January 1940 an additional 3, 6 inch guns were fitted and four days later she left for the 3rd Battle Squadron at Halifax, Nova Scotia.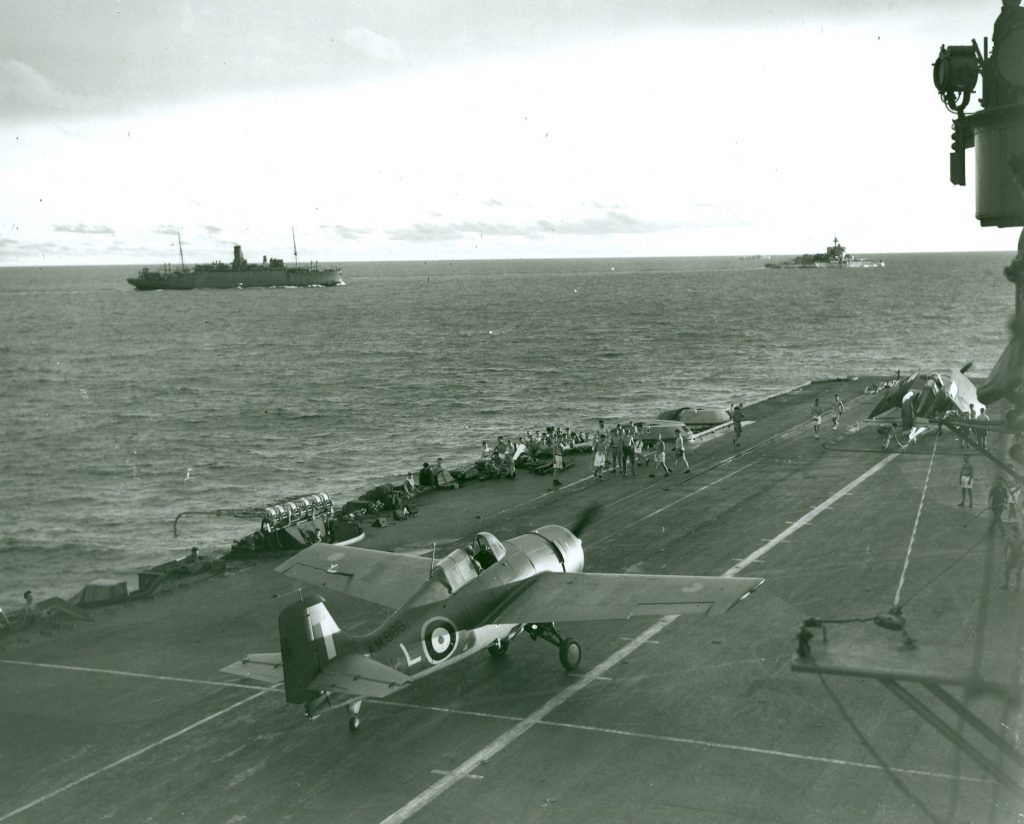 Armed Merchant Cruiser HMS Alaunia, seen here with the battleship HMS Warspite during operations round Madagascar in May 1942. In the foreground is a Grumman Martlet on the flight deck of HMS Formidable. The force had left Colombo on 24th April and put into the Seychelles on 1st May. The Fleet Air Arm carried out extensive patrols over a wide area during the operation before the covering force put into Mombasa on 10th May on conclusion of the operation.
She remained on this station until mid-1941, mainly escorting convoys from Halifax to rendezvous off Bermuda, then in the autumn of 1941, she left Halifax for a major refit at John Brown & Company in the Dalmuir Basin at Clydebank.
She completed her refit on the 15th December 1941 and was moved down the river to Greenock to embark stores and ammunition before sailing in convoy to Freetown, Durban and Mombasa. She returned to Durban where she remained until March 1942, when she escorted the liner Narkunda to Mombasa, their destination was originally Bombay but in the uncertainty following the disastrous battle of the Java Sea, both ships were diverted. In early April that year, when the situation had eased, Alaunia did escort a convoy to Bombay and in April 1942 she arrived in Colombo.
At this time the Japanese were on the offensive in the area and earlier in the month a Japanese naval force had destroyed 92,000 tonnes of shipping along the east coast of India and aircraft had bombed Trincomalee, sinking the aircraft carrier HMS Hermes. Admiral Somerville, who had just taken command of the Eastern Fleet, was forced, in the face of overwhelmingly superior Japanese naval strength, to retire with his fleet to Kilindini Harbour at Mombasa.
HMS Alaunia played a small part in this operation and she loaded large amounts of surplus stores and furniture for shipment to East Africa. On the 23rd April she embarked members of the Admiral's staff and the following day sailed with the fleet, codenamed 'Force A', taking up station with HM warships Warspite, Indomitable, Formidable and Newcastle.  After refuelling at the Seychelles on the 30th April, the fleet arrived in Kilindini on the 3rd May and Alaunia immediately disembarked the passengers and unloaded the stores.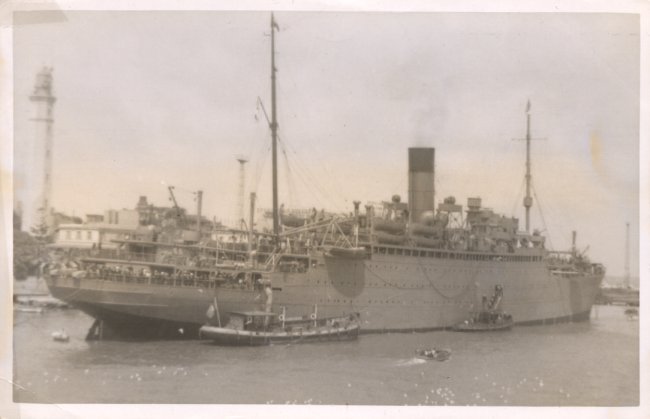 HMS Alaunia at Port Said, Egypt just before returning to England in February 1944.
Alaunia returned to Colombo in mid-May where she was immediately quarantined after a crew member was found to have smallpox. She remained there until the middle of June when she left once again for patrols between Colombo and Kilindini. From November 1942 until January 1944 she was anchored off Bandar Abbas in Iran, with periodic refits at Bombay.
After completing a refit she left for England on the 19th February 1944. Although AMC's still had a role to play in the Indian Ocean mainly on convoy escort duties, it was decided that Alaunia should be converted into a repair ship, one reason being that she had very poor gunnery equipment, not having been modernized during her years east of Suez. She arrived in Greenock on the 2nd April and left for Devonport five days later where she was paid off on the 17th May, with most of her ships company being drafted to Portsmouth and Chatham.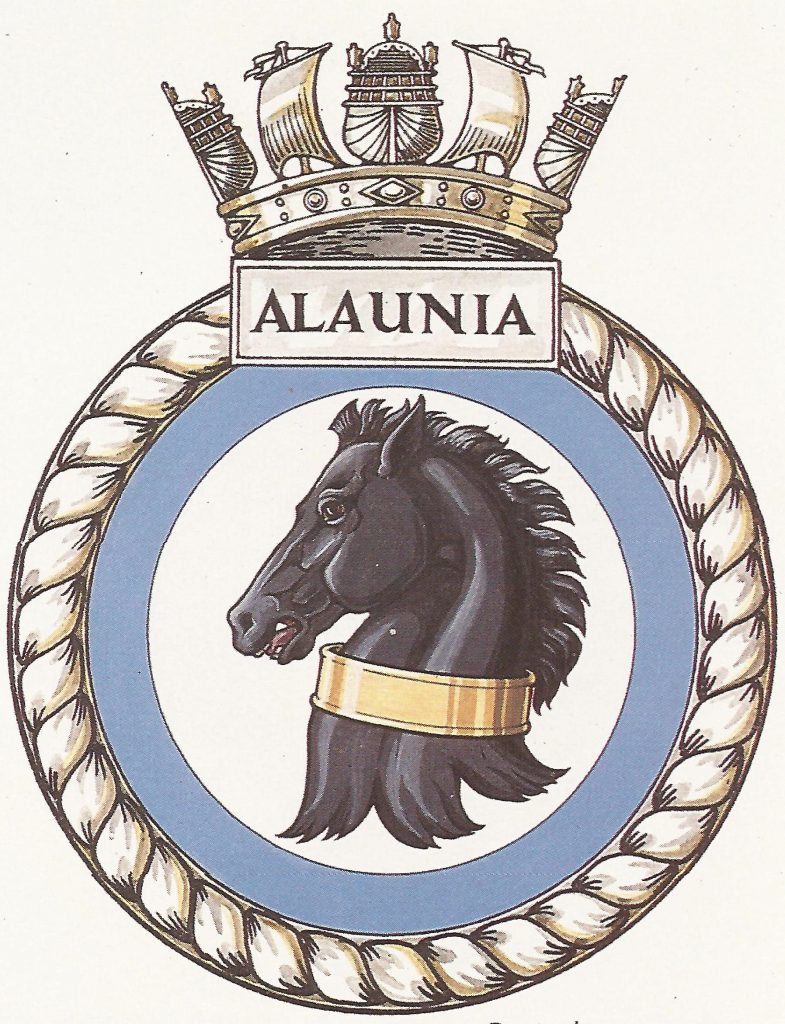 After nearly six years' service with the Royal Navy, HMS Alaunia was finally issued with a ships crest. The crest consisted of a blue blazon, with a plate charged with a horse's head, erased in black and collared in gold. Alaunia was the land of the Alani, which spread over the south of what is now Russia, to the confines of the Roman Empire. They were at war with Rome at the time of Hadrian and defeated. The Alani were skilled horsemen and renowned horse breeders, which is signified by the horses head.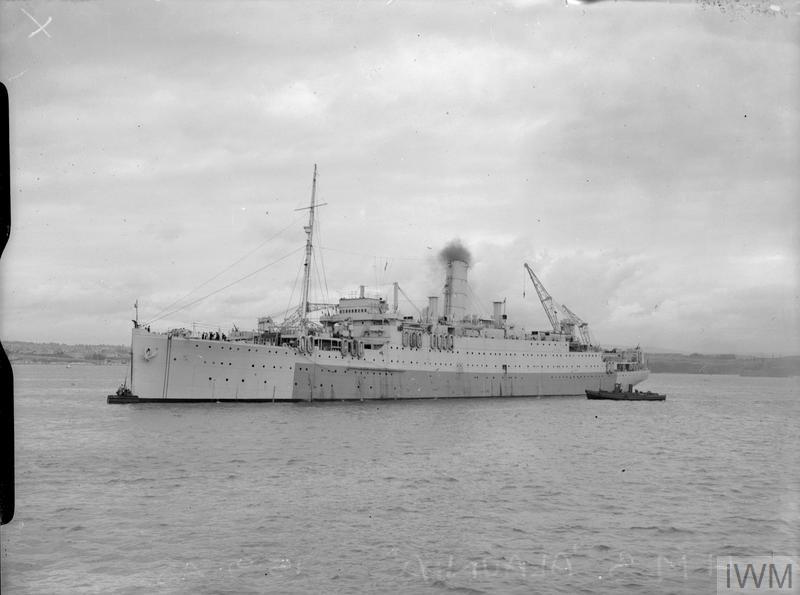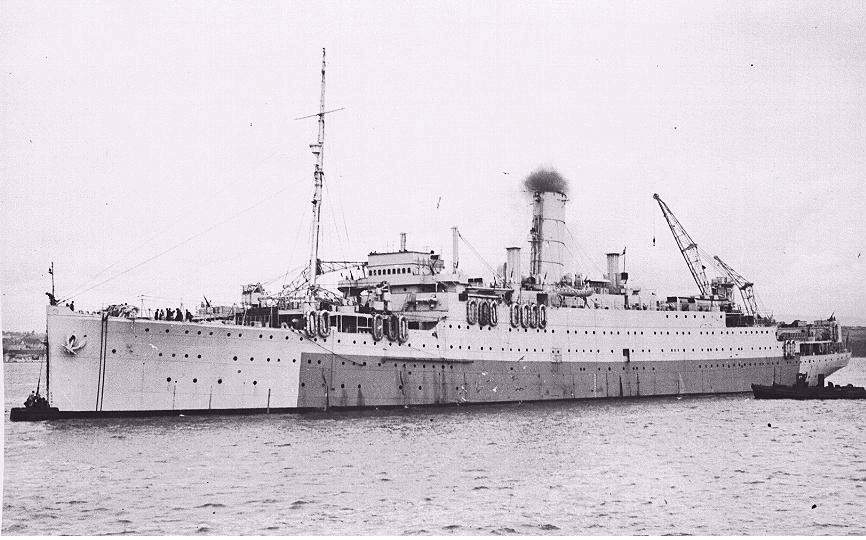 HMS Alaunia at Devonport in 1945.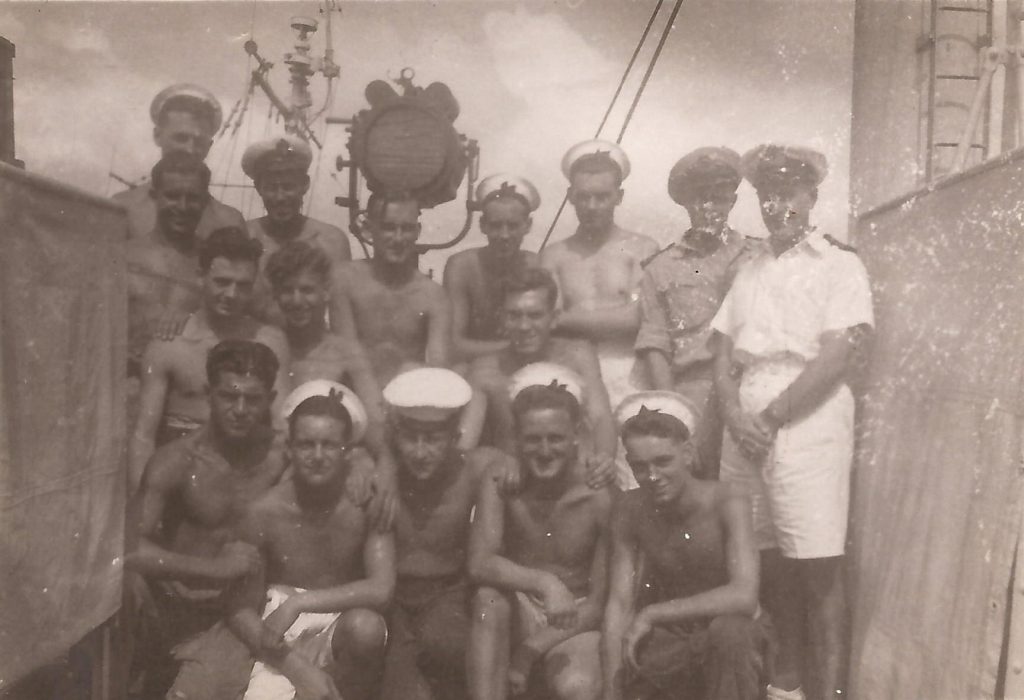 A photograph of HMS Alaunia's  Communication Staff, taken while the ship was in Johor, Singapore, in January 1946.
After her conversion to fleet repair ship, Alaunia commissioned again on the 21st August 1945, six days after VJ Day. The urgent need for these ships had now eased and after nearly a year at Johor, Singapore, she returned to England in late 1946 and apart from a trip to Fasline, Scotland, spent the remainder of her career at Devonport, anchored to No 1 buoy or alongside No 5 wharf. She ended her days as a static training ship for engine room personnel under training at Plymouth.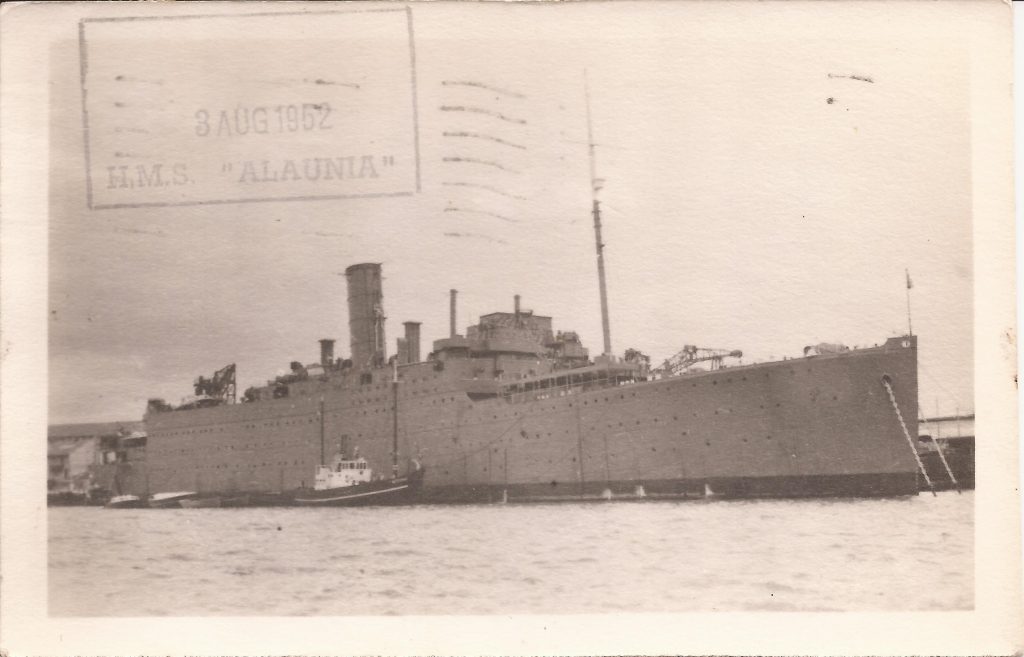 HMS Alaunia in August 1952.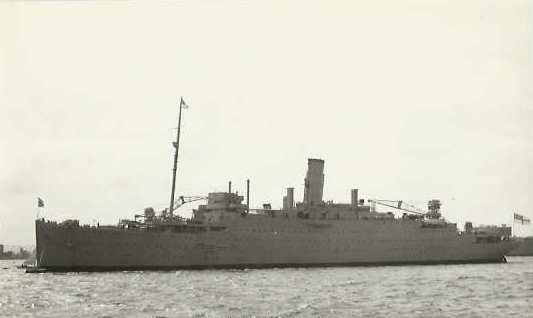 HMS Alaunia in 1950's.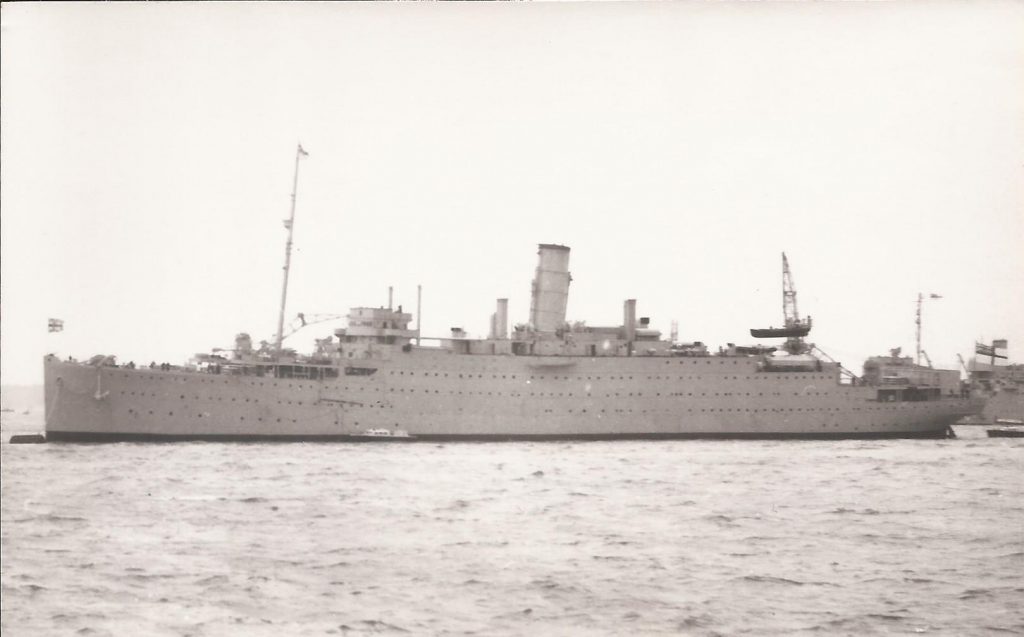 HMS Alaunia in 1950's.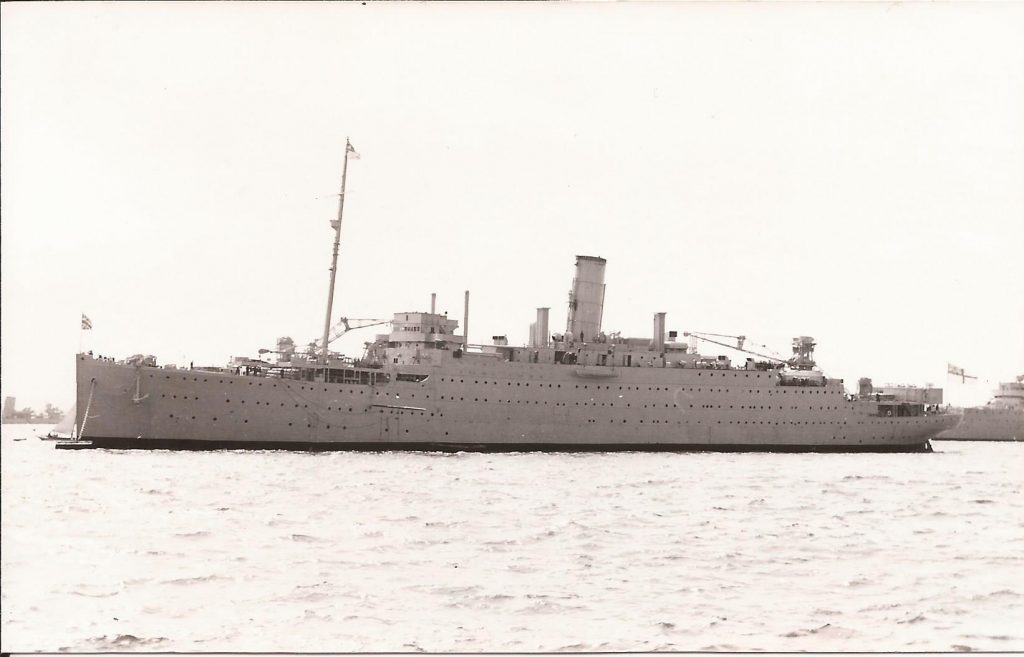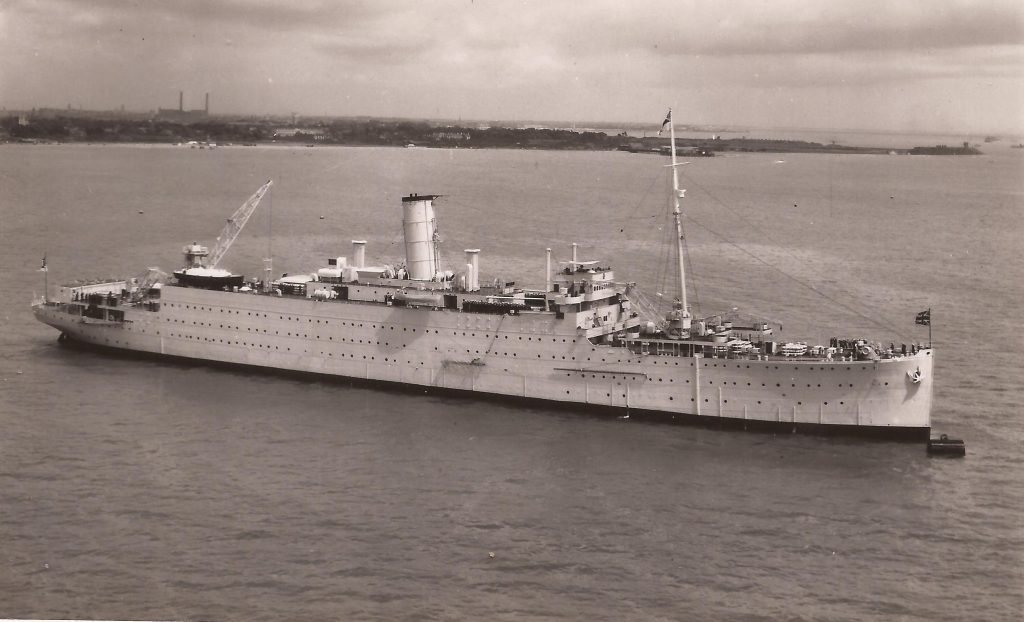 HMS Alaunia in 1950's.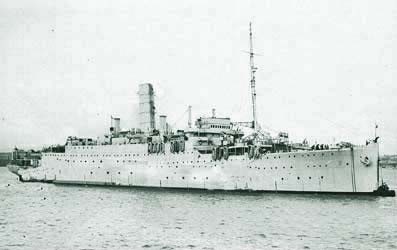 HMS Alaunia in 1946 at Devonport.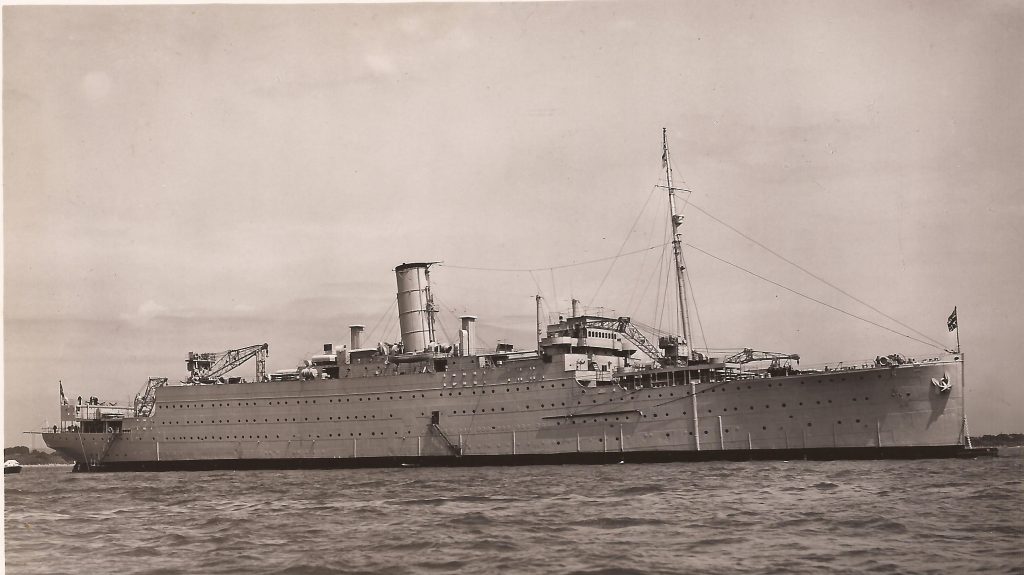 HMS Alaunia in 1950's.
HMS Alaunia in 1950's at Plymouth.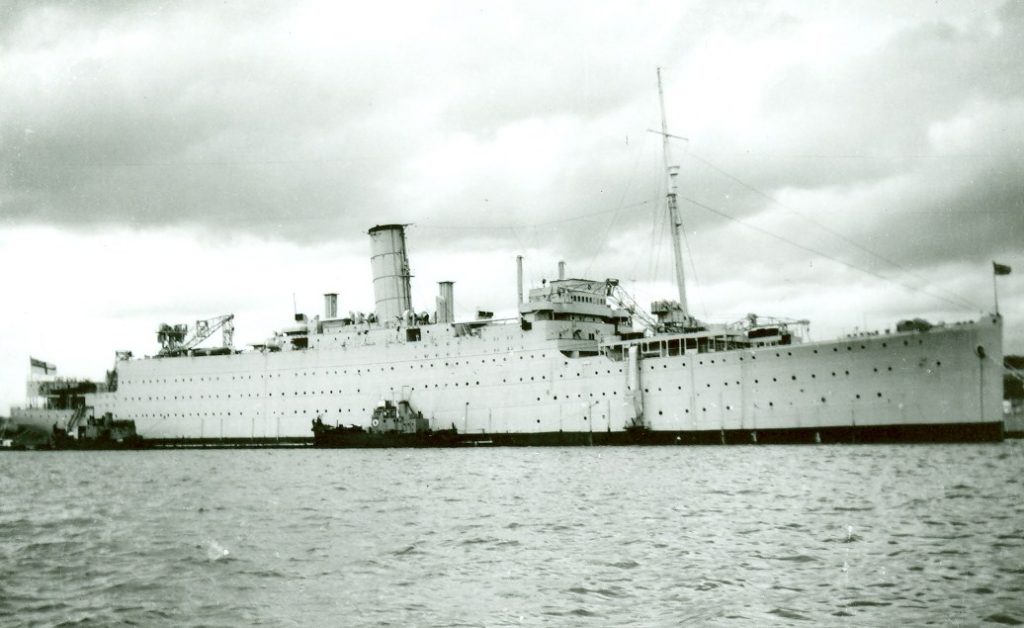 HMS Alaunia in late 1950's at Plymouth.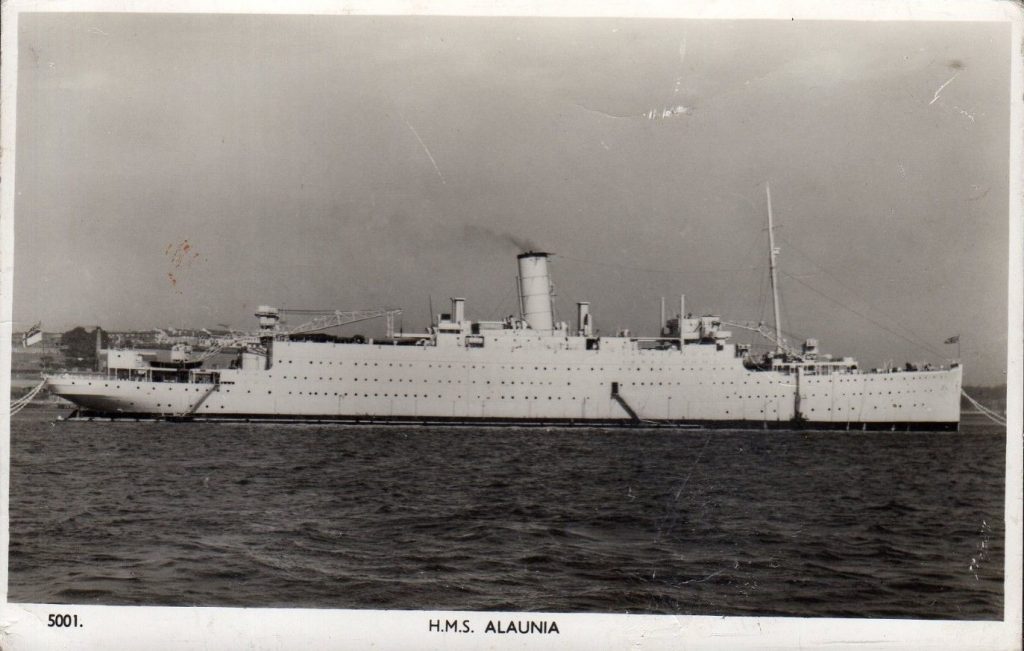 HMS Alaunia in late 1950's at Plymouth.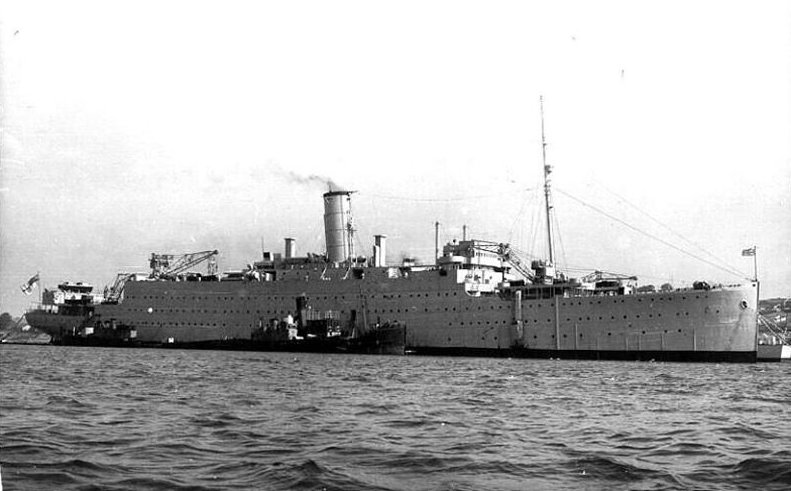 HMS Alaunia in late 1950's at Plymouth.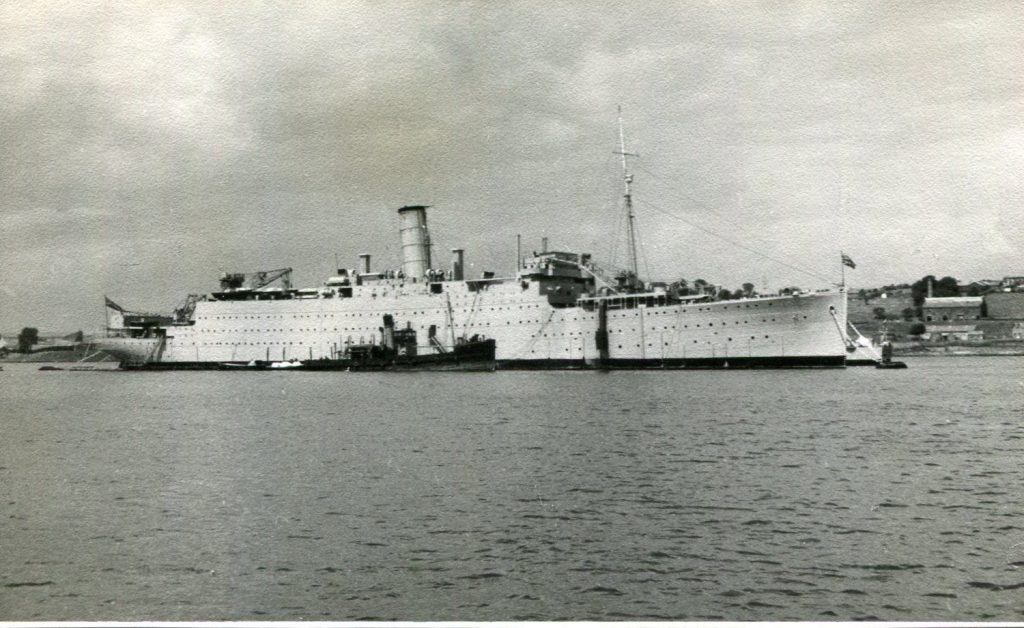 HMS Alaunia in late 1950's at Plymouth.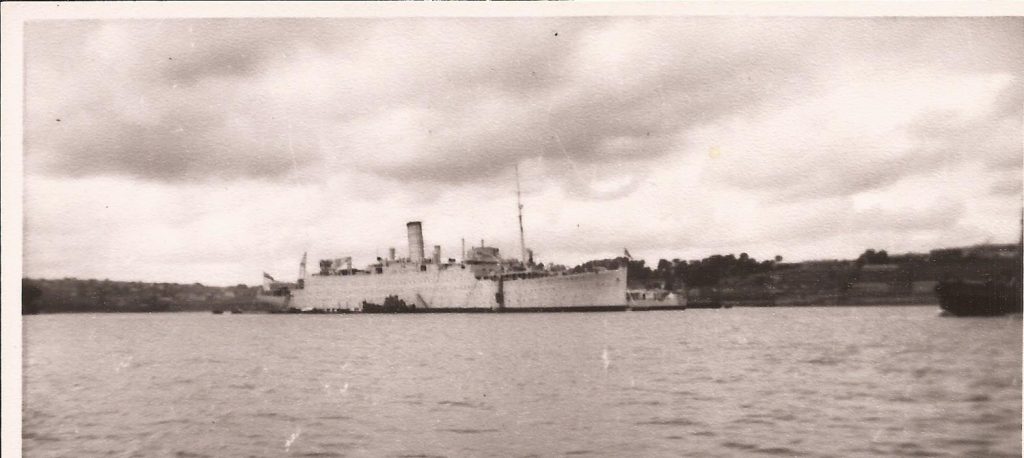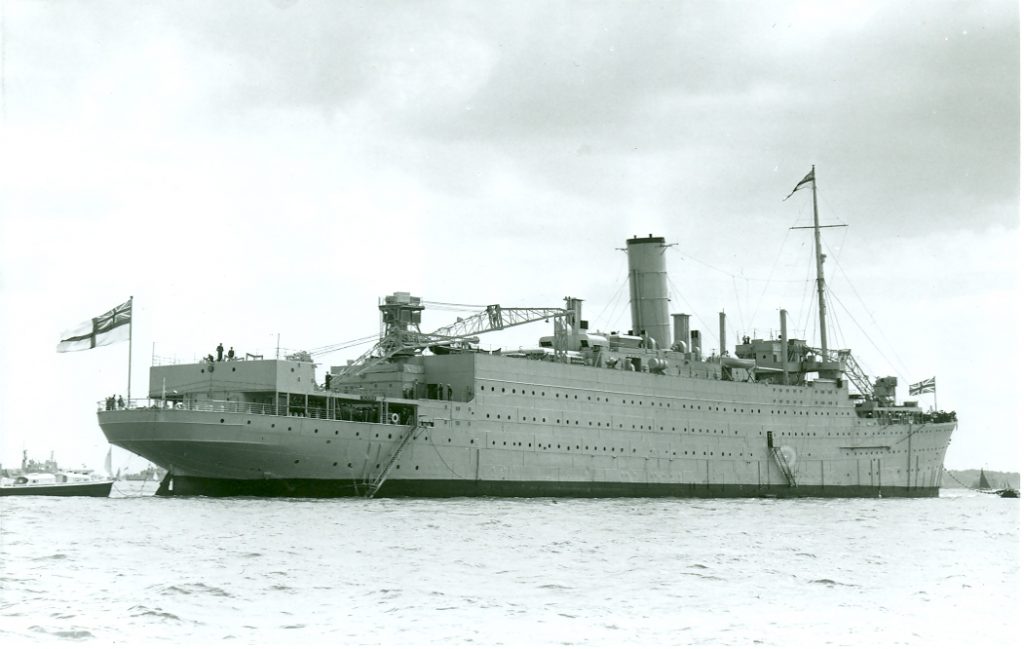 HMS Alaunia in late 1950's at Plymouth.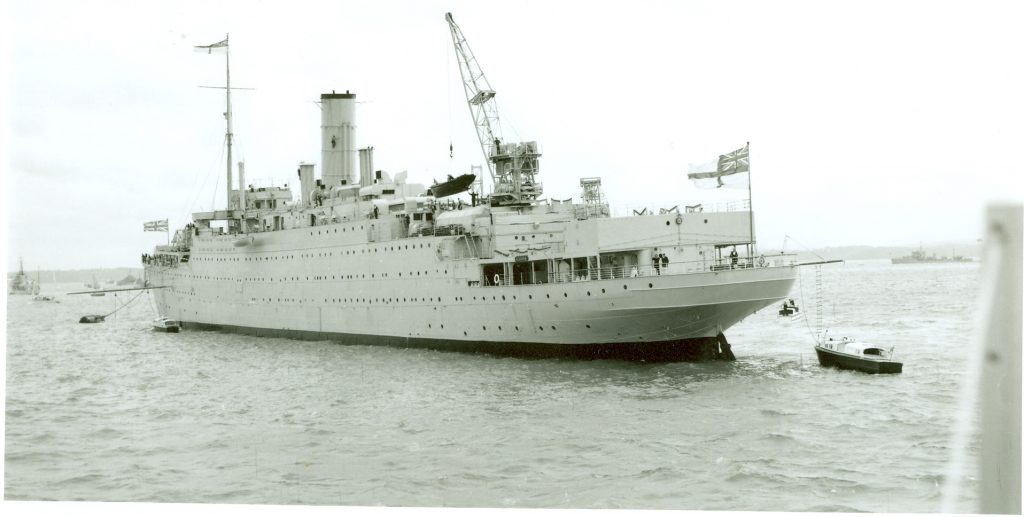 HMS Alaunia in late 1950's at Plymouth.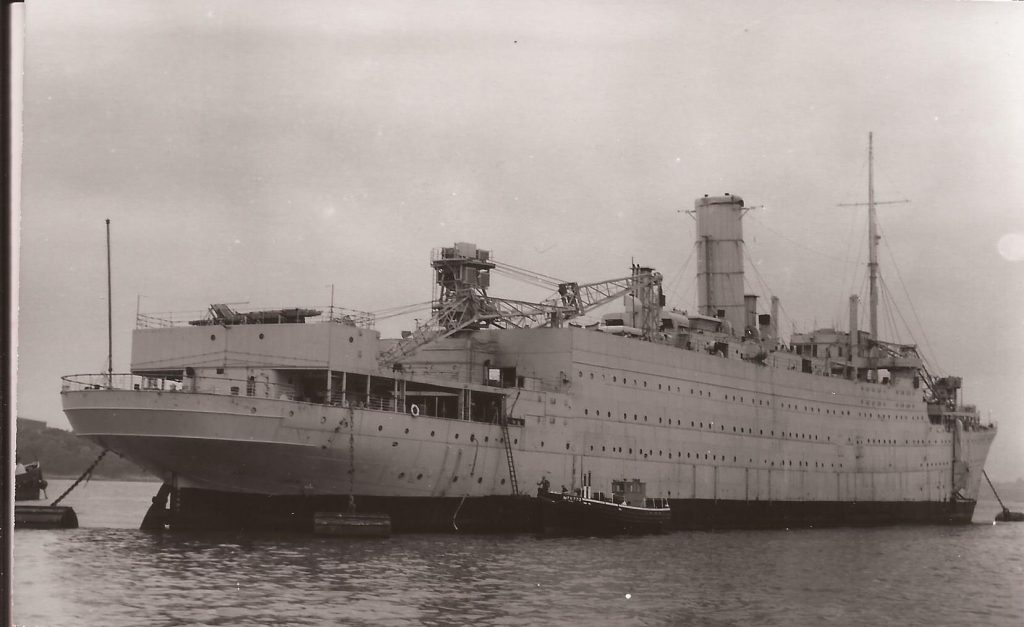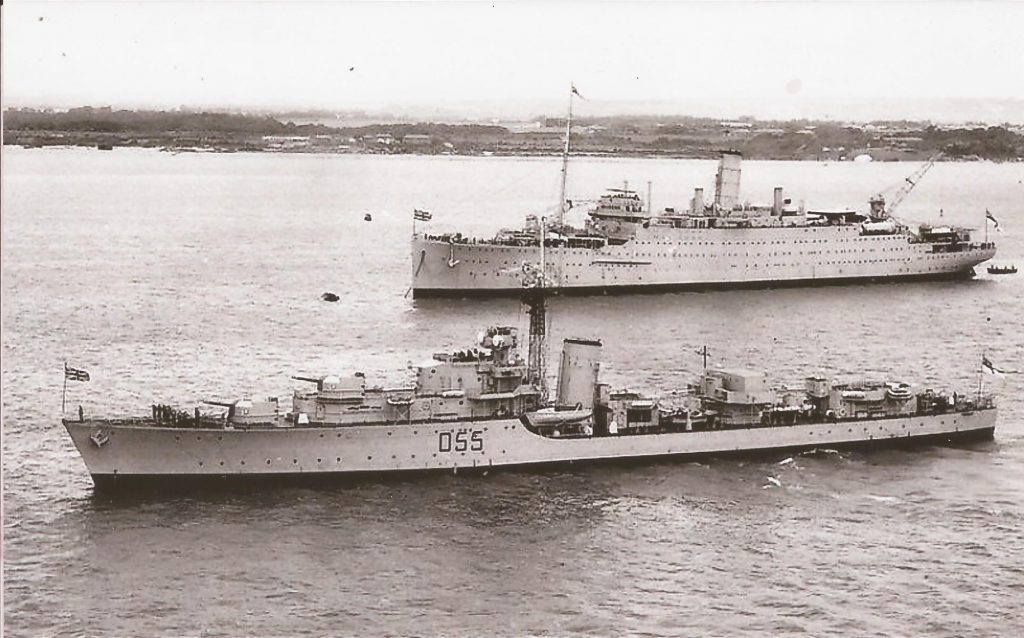 The Battle Class destroyer, HMS Finisterre passing HMS Alaunia.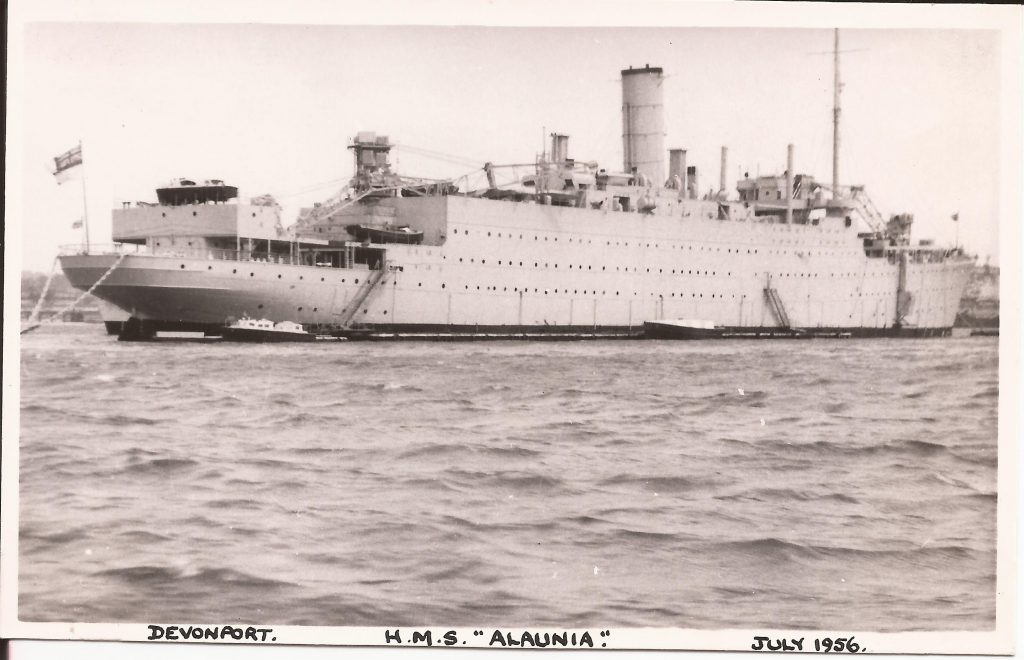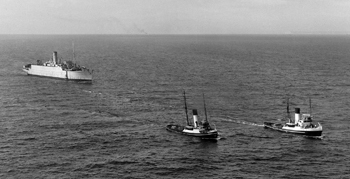 The heavy repair ship HMS Alaunia arriving in Blyth Harbour, Northumberland for breaking up on the 10th September 1957. She was sold to Hughes Blockow Shipbuilding Company for scrap.
Almost certainly the last photograph of Alaunia, seen here in the process of being broken up at Hughes Bolckow breakers yard (Battleship Wharf) on the River Blyth, Northumberland.